Franny the Fearless Firefly by Christina Murphey – Book Review
Franny the Fearless Firefly by Christina Murphey – Book Review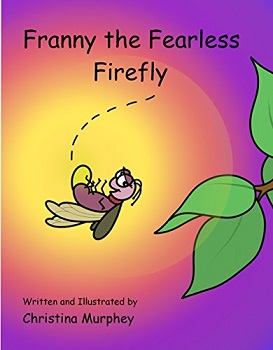 Franny the Fearless Firefly
Author – Christina Murphey
Publisher – Book Cravers Publishing
Pages – 30
Release Date – 23rd May 2016
Format – ebook, paperback, hardcover
Reviewer – Stacey
I received a free copy of this book
Post Contains Affiliate Links

Forgetting the forewarning of her friends Fred, Fiona, and Fritz, Franny is a fearless firefly who learns a valuable lesson when her fearlessness gets her into trouble.
This book focuses on the letter 'F' and introduces the young reader to alliteration.

Franny the Firefly is exceptionally fearless. She does lots of things that her family and friends Fritz, Fred and Fiona, think are too foolish and dangerous, but Franny doesn't care as she likes living dangerously – it's fun!
Franny's dad is worried about her. He can't help feeling that one day she is going to find herself in a lot of trouble, and quite possibly hurt herself in the process.
But will Franny realise just how dangerous some of her tricks are and stop before she gets hurt?
Franny the Fearless Firefly is a fun and educational story for young children. It will capture their imagination with the wonderful characters and spectacular, brightly-coloured illustrations that adorn every page.
The children will learn that whilst it's good to have fun and do exciting things, sometimes some of these fun things can also be dangerous. They will learn that they need to be able to know what is safe, and what isn't when it comes to enjoying themselves.
Most of the words in the book begin with the letter F and the story introduces the children to alliteration. At the back of the book the author has included a list of words that begin with F, alongside facts about Fireflies and questions about the story.
I found the book quite interesting and the story enjoyable. I had presumed that the book was part of a set with each one being a different letter of the alphabet, but alas no. This book is the first book in a planned series of books, but the others will be about different creatures that have characteristics that they need to learn to deal with, not letters of the alphabet.
Franny the Fearless Firefly is a lovely, sweet book that I feel younger children will love, not only for the pictures but the well thought-out, interesting story.
Book Reviewed by Stacey
Purchase Links