How to Find Gold by Viviane Schwarz – Book Review
How to Find Gold by Viviane Schwarz – Book Review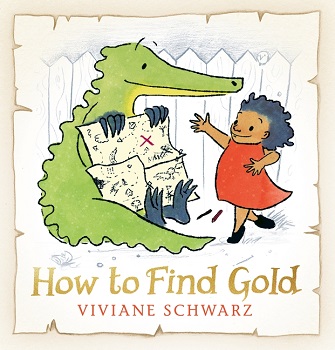 How to Find Gold
Author – Viviane Schwarz
Publisher – Walker Books
Pages – 32
Release Date – 7th January 2016
ISBN-13 – 978-1406362138
Format – paperback, hardcover
Reviewer – Stacey
I received a free copy of this book
Post Contains Affiliate Links

"LET'S FIND GOLD," said Anna. "That would be dangerous and difficult," said Crocodile. "Good!" said Anna. "Let's go!" From the award-winning picture book creator of There are Cats in This Book comes a story of imaginative play and of two friends, Anna and Crocodile, who are on the hunt for gold. But finding gold isn't easy. Oh no! It's dangerous and difficult and requires planning.
First, they must master their secret-keeping faces. Then Anna must pick up Crocodile, to be sure she's strong enough to carry all the gold. Finally, they must draw the whole world together, with an X that marks the spot, before sailing off in their boat. What will the two friends discover? Teeming with adventurous spirit and boasting wonderfully funny dialogue, this story introduces two unforgettable characters in a gorgeous, classic new art style from Viviane Schwarz, one of the most innovative and creatively inspired picture book makers of today.

How to Find Gold, is a young children's book full of imagination. It takes you on an adventure with Anna and her friend Crocodile. Anna wants to find some gold, but Crocodile tells her that it will be dangerous and difficult. Good, says Anna, and off on the adventure they go.
However, Anna soon realises how difficult it really is to find gold, and what will she do with the gold if they find it, as there is no point in finding it then spending it, as then you will not have any gold again.
This book will peak the interest of youngsters and could quite possibly have them searching for their own gold, using their homemade map, and their pretend ship.
The illustrations are beautifully drawn, they capture the eye as they are so big, bold and colourful. The characters have a warmth towards one another, and their friendship comes across so sweetly.
How to Find Gold is an adorable, amusing, children's book that will have kids eager to find out if Anna and Crocodile really do find the gold they are searching for, whilst at the same time the book subtly gets the message across that anything is possible with imagination.
Book Reviewed by Stacey
Purchase Links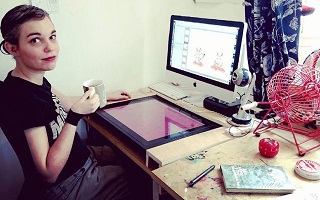 I was born in Germany. As a child I spent a lot of my time inventing and making things with my family – sculptures, machines, puppets, theatres, books, super-8 animations… we'd often go to museums and find new ideas for things to make, and go straight to the hardware store to pick up more materials and tools. I developed a strong interest in science and technology as well as traditional methods and crafts.
I read American Literature and Linguistics at University while writing Fantasy stories. Then I moved to Cornwall, England, to study. I now hold a Master's degree in Authorial Illustration from Falmouth College of Arts.
Since then I have written and illustrated several picture books and a graphic novel. My books have been translated and published internationally and I've won awards. I create interactive experiences and narratives in many different ways, be it books, games, songs, installations or performances.
I often collaborate with other artists and enjoy unexpected results as well as careful planning. I sometimes design games and interactive installations for festivals. I give lectures, workshops and drawing demonstrations, and am associate lecturer on the Illustration BA of Plymouth Uni
I'm generally found in my studio in London, unless I'm out of doors researching and sketching or at some festival covering everyone in cardboard.
Author Links