Frog and Beaver by Simon James – Book Review
Frog and Beaver by Simon James – Book Review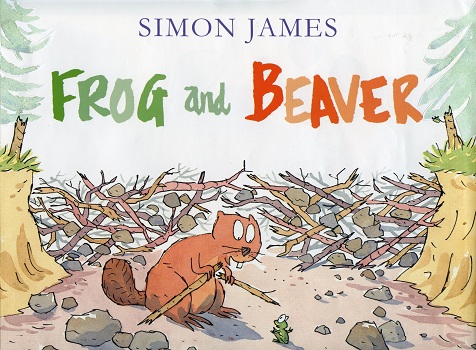 Frog and Beaver
Author – Simon James
Publisher – Walker Books
Pages – 32
Release Date – 5th January 2017
ISBN-13 – 978-1406359862
Format – hardcover
Reviewer – Stacey
I received a free copy of this book
Post Contains Affiliate Links

Frog and his friends all live happily together on the river. At least they do until Beaver comes along.
Beaver is determined to build the biggest and best dam that anyone has ever seen, but it's so big that it stops all the water and Frog and his friends are forced to move.
Frog tries to warn Beaver that his dam is too big, but inconsiderate Beaver just won't listen… A charming picture book with an environmental message from the acclaimed and award-winning Simon James.

Frog lives by the river, under his leaf. Life was just perfect for him and his neighbours, the Ducks and their ducklings, and the Water Voles and their baby water voles.
Then one day a beaver appeared, looking for a new home. Frog tells him that the river is a lovely place to live, so beaver decides to stay and tells the residents that he is going to build the biggest and best dam that they will have ever seen.
As beavers dam gets bigger, the river starts to dry up as his dam is blocking the water from getting through. Frog tries to explain to him that his actions are causing the others problems, but beaver doesn't listen. In the end the families have to move to the other side of the dam.
But when the dam breaks, the residents are left homeless again. It's up to a very sorry beaver to help them build their homes once again.
I love this sweet, yet educational book. It teaches children that sometimes what people (or animals) do can have consequences, and that we should all be more caring about each other, and not just think about ourselves.
The illustrations are bright and colourful. They bring joy to the story, and show exactly what is happening throughout.
Frog and Beaver is a lovely, feel good book, that will children will enjoy reading over and over again.
Book Reviewed by Stacey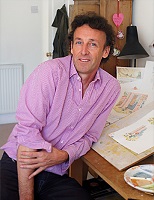 Simon James grew up in Bristol and Exeter, and was educated at Queen Elizabeth School, Crediton. From an early age he spent much of his time drawing and stapling stories into little books.
His father had lots of books on cartoonists, many of whom Simon tried to copy – his favourites were Ronald Searle and Gerard Hoffnung. He spent the rest of his time climbing trees, saving worms from puddles and worrying about the strange shapes in the curtains at night.
After leaving school Simon had many different jobs whilst hoping to become a cartoonist. Some time later he went to college to study graphic design and art history. "Whilst working with words and images together I developed a greater understanding of the techniques used in creating picture books," he says. After college, Simon went back to spending much of his time drawing and stapling stories into little books – and still does to this day.
Simon's first book, The Day Jake Vacuumed, was published in 1989 – and two more books about Jake soon followed. His first title for Walker Books, My Friend Whale, was the first of several concerned with a child's relationship with the natural world – Dear Greenpeace, Sally and the Limpet, The Wild Woods and The Birdwatchers have established Simon as one of the country's leading author/illustrators.
Leon and Bob won the Smarties Book Prize Silver Award and was the New York Times Best Illustrated Book of the Year, and Days Like This, a collection of small poems, was shortlisted for the Kate Greenaway Medal. Baby Brains has won numerous awards including the Picture Book prize and the Overall Winner at the Red house Children's Book Award. His books have been published in over twenty languages around the world. Now, with over twenty titles, including the recent, George Flies South, Nurse Clementine and REX, Simon has established himself as a hugely popular picture book author for young readers today.
Simon continues to be a much sought-after speaker in schools, festivals and conferences both in the UK and in the USA.
Author Links