A First Book of the Sea by Nicola Davies – Book Review
A First Book of the Sea by Nicola Davies – Book Review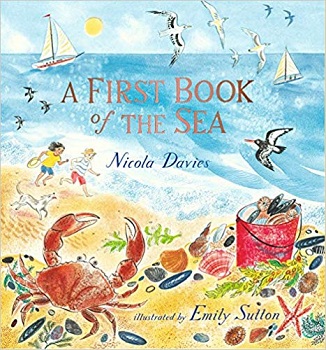 A First Book of the Sea
Author – Nicola Davies
Illustrator – Emily Sutton
Publisher – Walker Books
Pages – 104
Released – 5th July 2018
ISBN-13 – 978-1406368956
Format – hardcover
Reviewer – Stacey
Rating – 4 Stars
I received a free copy of this book
Post contains affiliate links.
From Nicola Davies and Emily Sutton, the multi award-winning team behind Tiny and Lots, comes a spellbinding collection of poems about the oceans of the world and their shores.
With this book, children can swim alongside dolphins and flying fish, pore over rockpools and sail from pole to pole and back, learning about everything from phosphorescence and plankton to manta rays and puffins – all in the comfort of their bedroom.
Emily Sutton's exquisite watercolours capture the breathless excitement of a child's first glimpse of the sea, the majesty of ancient trading ships and the sheer, staggering wonder of the humpback whale.

Nicola Davies is a well-known children's book author who has produced some stunning non-fiction books and this is another to add to that list.
This book is all about the sea (if you couldn't guess). It is filled with different fish, whales, birds even things such as a lighthouse and surfer. Each page has a different item and is complete with stunning artwork by Emily Sutton and a poem written by Nicola. The book is split into four parts Down by the Shore, Journeys, Under the Sea, and Wonders.
The poems vary in size, some a few words long, some are full page. I would say due to the more grown-up illustrations – there's no cartoon work here – and the poems, that this book would be more for an older child, even though it is called 'A First Book'.
What I truly like about this book is that Ms. Davies also teaches the children what is the deadliest in the seas – Plastic. There is a double page all about plastic in the sea and what it does to the creatures. The illustration that accompanies these pages hopefully will have children fully understanding how bad the situation really is.
This would be an amazing book to have in a school and use for class reads. It would also work just as well at home too for all those young children who are interesting in the sea and animals.
Reviewed by Stacey
---
Purchase online from:
---
About the Author

I don't remember a time when I wasn't fascinated by animals. From the moment I could walk I was out in the garden watching ants and worms, and collecting snails as pets.
I had my first pair of binoculars for my eighth birthday. They were so big, I couldn't hold them steady for more than a few seconds. I can still remember the very first bird I saw through them: a male blackbird with his golden-yellow eye ring and sooty black feathers.
My first job was studying geese in Scotland, my second was hand rearing jackdaws and my third was watching humpbacked whales from an uninhabited island in Newfoundland! In the last two years I've returned to studying animals and have been helping out on a long term study of sperm whales, sailing in the Sea of Cortez, and the Caribbean off the island of Dominica.
I've seen all sorts of animals, all over the world: chameleon's in Madagascar, turtles in the Seychelles, walruses in the Arctic, bat eared foxes in Kenya, salt water crocodiles in Australia. But I still love the animals that are within reach of my home in Wales: the ravens and red kites, the grey seals and the choughs, the roe deer and foxes, even the blackbirds that nest in my tiny garden.




---