Angels and Elves by William Collins – Book Review
Angels and Elves by William Collins – Book Review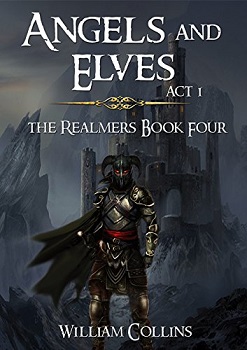 Angels and Elves: Act One
The Realmers Book Four
Author – William Collins
Pages – 531
Released – 12th April 2018
Format – ebook
Reviewer – Julie
Rating – 4 Stars
I received a free copy of this book
Post contains affiliate links.
Evan, Jed and Brooke have all become accomplished Venators, but no matter what they face in their missions, from slug-dragons to giant jellyfish, a much larger threat looms. Even Veneseron is no longer safe, as the secret dark-Venator in their midst plans to kill again.
Evan is no longer the quiet, kind boy he was when he arrived at Veneseron.
He fears that the dark magic inside him is changing who he is. Not even joining the magical sports team at Veneseron can distract Evan from the power calling to him. Meanwhile, the sister Evan never knew he had, Taija, is terrified of even taking part in training, knowing how powerful and uncontrollable her sorcery is and how people die every time it gets free.
Whilst Jed is given the task of trying to save the faerie realm from its imminent destruction, whispers spread of a weapon hidden on the world of dark elves that can infect and turn anyone into mindless demons.
Worse, Queen Akirandon now knows Veneseron has been harbouring one of her children and will stop at nothing to find them, putting all the worlds at risk. Evan and Brooke must go before the Venator high-masters and reveal what they are, but in doing so they risk being imprisoned or even killed by their own people, who may see them as evil beings not meant to exist.

This is the latest YA fantasy adventure for Evan and Brooke et al from the pen of British author, William Collins. The main protagonists are now fully fledged Venators representing the planet Veneseron on missions around the galaxy. The story is written in the third person and we witness the action through the eyes of various players, in several threads. In addition, we are drip fed some backstories along the way.
As well as getting into a series of life threatening situations, the Venators still have time for social interaction with the inevitable friction this causes in a competitive environment. We see conflict and camaraderie in equal measure with Collins using humour and irony to add depth to the narrative.
Travelling to various locations via space portals and fighting a variety of hideous creatures is entertaining, especially when the author thinks up ever more outlandish backdrops in which to plant his characters. However after three books, this alone would be formulaic and predictable, so the story needed to move forward. The author managed to successfully achieve this by the skilful use of foreshadowing.
We are allowed to know the castle is harbouring a traitor who is playing a long game. He has killed some of his fellow Venators and plans to convert others to the side of evil. Brooke and Evan meet Kalkavan but thankfully his demonic sorcery cannot harm them in the dream realm but we know when they meet again, the Dark Disciple means to kill them.
In addition, Brooke and Evan must fight inner turmoil to control their demonic magic and convince the High Council of their sincerity and loyalty. If they can achieve this, they then have to battle the Rakarn and also the Queen with her powerful demon 'dethyr'.
William Collins' rich imagination has again delivered a well thought out tale of sorcery and skulduggery with fast paced action on virtually every page. In common with his previous work, the descriptive passages are vivid and colourful.
We are left with a series of unanswered questions at the end of this instalment. Now that Akinandon knows her devil spawn lives, what will her next move be? Will the meeting at the High Council at Del-O-Reth prove to be the most spectacular miscalculation on the part of Valderain? Plus we wonder about the fate of a favourite character, now in captivity and facing unimaginable horrors.
The book runs to over 500 pages and perhaps some segments could have been condensed. Nevertheless, if you enjoy blood and gore aplenty, then you won't be disappointed. I believe William Collins' target audience will thoroughly enjoy another trip to the Realmer Republic and award 'Angels and Elves' four stars.
Reviewed by Julie
---
Purchase online from:
---
About the Author
William Collins is a writer from the UK and the author of The Realmers Series, as well as the spin-off Realmer Chronicles.


---