The Pearl of York, Treason and Plot by Tony Morgan – Book Review
The Pearl of York, Treason and Plot by Tony Morgan – Book Review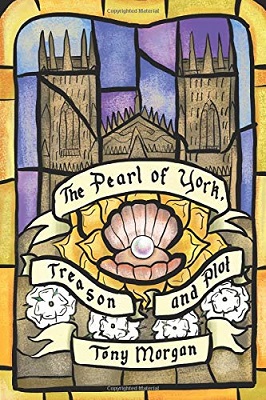 The Pearl of York, Treason and Plot
Author – Tony Morgan
Pages – 235
Released – 1st March 2020
ISBN-13 – 979-8605612667
Format – ebook, paperback
Review by – Julie
Rating – 5 Stars
I received a free copy of this book.
This post contains affiliate links.


The gripping new historical novel set in atmospheric Tudor York. When Margaret Clitherow is arrested for illegally harbouring Catholic priests, her friends, led by a youthful Guy Fawkes, face a race against time to save her from the gallows.
As events unfold, their lives, and our history, change forever. What events could persuade a happily married woman to become a martyr or transform a young man into a terrorist?

'The Pearl of York, Treason and Plot' is an historical thriller by Welsh-born author, Tony Morgan. He has taken, as his premise, the early life of Guy Fawkes and weaved a tale around what might have happened to him in his formative years. The story is told in the first person and the past tense, using the frame and flash-back technique.
Most of us know what happened to Guy Fawkes and the other gunpowder plotters, so instead of dwelling on those aspects, Morgan devotes most of the book to reminiscences. This focuses Fawkes' mind on the past, rather than the torture he's enduring at the hands of his captors. He believes if he can hold out for long enough, his cohort might have time to escape and continue in their plan to place a Catholic monarch on the throne. As the rack takes its terrible toll, Fawkes remembers his time at school, his family, his friends and his first love.
The author paints a vivid picture of Tudor England under Queen Elizabeth I, with its bustling markets and filthy streets. We also see the stark differences between the social classes and the vulnerability of anyone who crossed those in power. He captures the atmosphere of repression, suspicion and fear, prevalent throughout England. He also skilfully manages to evoke sympathy for the persecuted Catholics who refused to renounce their faith.
Morgan's Fawkes is a hot-headed, impetuous young man who seems to court trouble yet at the same time, he is principled, honourable and committed to the welfare of those he loves. A lot of research has gone into the delivery of this story, so that fact and fiction blend seamlessly together.
We also meet Margaret Clitherow, the Pearl of York, whom may have been instrumental in Fawkes' conversion to Catholicism. Her exposure and the manner of her barbaric death are detailed in a non-sensational, yet deeply moving way, which highlights the intolerance of the time. Of course, we will never know if these events in any way mirror reality but both these historical figures hail from York, so it's possible their paths crossed.
There is much to admire in this story. I found myself frequently pausing to further my knowledge regarding the Council of the North, along with the backgrounds of the various historical characters mentioned. For the history enthusiast, this tale brings a new dimension to the life of Guy Fawkes and the febrile mood in England at this time. I thoroughly enjoyed it and believe it's worth a full five stars.
Book Reviewer – Julie
---
Purchase online from:
---
About the Author

Tony Morgan is a Welsh author living in Yorkshire in the UK, near to the birth place of Guy Fawkes.
His books have been described as a perfect read for lovers of the works of C.J. Sansom and S. J. Parris and anyone interested in how historic events have shaped our own times.
In addition to writing novels, Tony gives history on topics such as Guy Fawkes and the Gunpowder Plot and the life of Margaret Clitherow.



---
What did you think of The Pearl of York, Treason and Plot? Share your thoughts in the comment section below!
---
The above links are affiliate links. I receive a very small percentage from each item you purchase via these link, which is at no extra cost to you. If you are thinking about purchasing the book, please think about using one of the links. All money received goes back into the blog and helps to keep it running. Thank you.
Like us on Facebook – Tweet us on Twitter – Pin us on Pinterest