Summer Secrets at the Apple Blossom Deli by Portia MacIntosh – Book Review
Summer Secrets at the Apple Blossom Deli by Portia MacIntosh – Book Review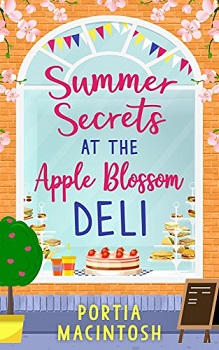 Summer Secrets at the Apple Blossom Deli
Author – Portia MacIntosh
Publisher – HQ Digital
Released – 18th May 2018
Pages – 245
Format – ebook
Reviewer – Stacey
Rating – 5 Stars
I received a free copy of this book
Post contains affiliate links.
Lily Holmes is ready for a fresh start. And there's no better place to begin again than the idyllic seaside town of Marram Bay.
All Lily wants to do is focus on making her new deli a success and ensuring her son's happiness. Not the postcard creeping out of her handbag, and definitely not finding a new man in her life!
But this isn't going to be as easy as she first thought. The town is in uproar about the city girl who's dared to join them and she's fighting a battle at every turn.
Perhaps with a little help from the gorgeous cider farmer next door, she may be able to win them over, but her past secrets threaten to ruin everything…

Lily Holmes is given the opportunity to move out of London with her son Frankie and into the Yorkshire countryside when the company she works for expands their business and need someone to run their new store.
The pair moves into Apple Blossom Cottage, which looks gorgeous from the outside, but dated and small on the inside. Things don't improve with the local school either when all the kids take a dislike to Frankie as the new place his mum has come to run is a deli, and the locals don't want a high-street chain opening up in their village. They also believe the deli will take effect the local businesses.
Lily has her work cut out, not only trying to make a success of the deli, but convincing the locals that the store won't hit their businesses. She does find an ally in local farmer, Alfie, who has been on the receiving end of the locals not welcoming him with open arms.
Can Lily cope with the animosity, or will she pack up her car and head back home to London?
Summer Secrets at the Apple Blossom Deli is a delicious, summery read. Single parent Lily has only one thing on her mind when she is offered the job in Yorkshire, to get her son out of London and into clean, fresh air and a better life. She didn't expect the locals to of taken such a dislike to the deli, which in turn makes them take an instant dislike to her and her son too.
With everything going wrong she invites her mum, Viv, to stay for a while to help her. What she didn't expect was her to turn up with an unwelcome guest, one that makes her life go from bad to worse.
I love how the story follows Lily's life, but more than one part of it, mixing old problems and new ones together. The book flowed at an easy-going pace and was an effortless read.
The characters were all a delight to get to know and the setting was just perfect. Summer Secrets at the Apple Blossom Deli is a heart-warming, uplifting book that had me captivated from the first chapter and had me eager to keep on reading. I can honestly say I completely adored this book, hopefully, you will too.
Reviewed by Stacey
---
Purchase online from:
---
About the Author
Portia MacIntosh has been 'making stuff up' for as long as she can remember – or so she says. Whether it was blaming her siblings for that broken vase when she was growing up, blagging her way backstage during her rock chick phase or, most recently, whatever justification she can fabricate to explain away those lunchtime cocktails, Portia just loves telling tales.
After years working as a music journalist, Portia decided it was time to use her powers for good and started writing novels. Taking inspiration from her experiences on tour with bands, the real struggle of dating in your twenties and just trying to survive as an adult human female generally, Portia writes about what it's really like for women who don't find this life stuff as easy as it seems.




---