Timmy Failure: It's the End When I Say It's the End by Stephan Pastis – Book Review
Timmy Failure: It's the End When I Say It's the End by Stephan Pastis – Book Review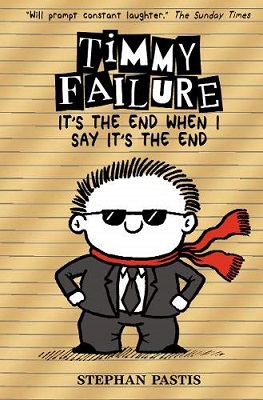 Timmy Failure
It's the End When I Say It's the End
Author – Stephan Pastis
Publisher – Walker Books
Pages – 368
Released – 6th September 2018
ISBN-13 – 978-1406382785
Format – ebook, paperback, hardcover, audio
Review by – Stacey
Rating – 4 Stars
I received a free copy of this book.
This post contains affiliate links.


In the series finale, Timmy Failure and his class create a hilarious film about his life ― just in time for the holidays.
Though I, Timmy Failure, have solved many notorious crimes and now wish to enjoy my retirement, my fans have begged me to turn my memoirs into a movie, an ode to my greatness. I am, however, beset by enemies, the worst of whom is Tom John John, the buffoonish movie director.
What's more, my father is in town, working at a bar, which is obviously just a cover for our father-son crime-fighting partnership. And my dim-witted polar bear business partner, Total, wants to be reunited with his family. I should have known it would end like this. I expected more.

Child detective Timmy Failure or should I now say ex-detective is having to write a movie for a class project and what better movie to shoot that one of his life. Thought artistic differences with his team are putting his version of his life-story at risk. He is also trying to help his Polar Bear side-kick find his long lost brother in the Arctic.
I first encountered Timmy Failure back in 2017 when I reviewed book six in the series – this one is book seven. As I stated then the books can be read as standalone's, even if I think it is always better to begin a series at the start.
This final book in the series sees Timmy decide to retire from his detective business and when an opportunity comes along to write a movie his class teacher thinks one about his life would be a good choice for him.
The plot, as usual, is completely insane and bizarre and will give children a real giggle, as well as the fab artwork. The books are quite large and might seem daunting for a child but there are so many illustrations throughout that I was up to chapter 40 in just 30 minutes, so a child could probably read this whole book in a couple of hours, though savouring it is best, if they can find the will to put it down once they have started!
As far as I'm aware a movie has been adapted from the series too, I'm not sure whether it was released or not due to the ongoing virus situation, but I'm sure children would love to watch a movie based on a book, especially one they have read.
The story is hilarious and had me laughing-out-loud a few times. If you have children who want some light relief or even are reluctant readers, then this is the series to buy.
Book Reviewer – Stacey
---
Purchase online from:
---
About the Author
Former attorney now cartoonist, Pastis graduated from the University of California, Berkeley, and the UCLA School of Law. He lives in northern California with his wife and two children.





---
What did you think of Timmy Failure: It's the End When I Say It's the End? Share your thoughts in the comment section below!
---
The above links are affiliate links. I receive a very small percentage from each item you purchase via these link, which is at no extra cost to you. If you are thinking about purchasing the book, please think about using one of the links. All money received goes back into the blog and helps to keep it running. Thank you.
Like us on Facebook – Tweet us on Twitter – Pin us on Pinterest