Dub!: A Campervan Adventure by James Kellett – Book Review
Dub!: A Campervan Adventure by James Kellett – Book Review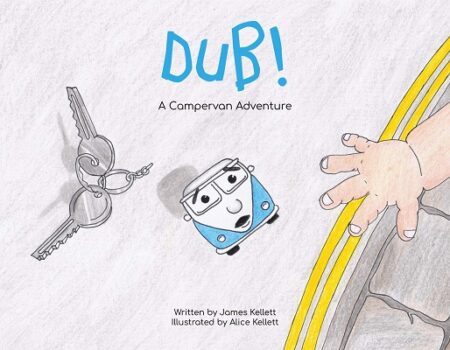 Dub!: A Campervan Adventure
Author – James Kellett
Illustrator – Alice Kellett
Publisher – Pretty Splitty
Pages – 32
Released – 1st December 2020
Format – paperback
Rating – 4 Stars
I received a free copy of this book.
This post contains affiliate links.


Synopsis
'Dub: A Campervan Adventure', is a warm and funny story involving Dub, a campervan shaped keyring who comes to life and embarks on an adventure.
His journey covers the joys and pitfalls of travelling whilst exploring themes of friendship, kindness and positivity. Young children will love joining Dub on his journey as he meets a cast of interesting characters.
Dub starts life as a keyring given to a young child to play with. When the child falls asleep the keys drop and Dub breaks off leaving him all alone until he encounters a bird who thinks he is food for her chicks, and the helpful chicks who realise he isn't to be eaten and try to fix his wheels that they have popped.
The book is told in a rhyming style, though the text is kept to a minimum. Both are helpful for young children learning to read. The plot is a real adventure as you follow Dub on his unexpected journey.
Amongst the text, there are wonderful, eye-catching illustrations that show Dub in all his glory. I particularly liked the scene with the snail as Dub tries to help him move faster, it was fun to see a snail in a jumper which was unravelling as he travelled.
I wonder if this is the first book in a planned series, an introduction to Dub. I think there are endless possibilities of what he could get up to or where he could travel to next and I'm sure children who read this first book would love to see more of him.
Along with children having a wonderful, engaging, story to read or a bed-time story to be read to them, this book will show them what a campervan is, as a lot of young children most likely will never have seen one, which is a shame.
Overall, a lovely book that features a unique character who finds himself in some strange situations surrounded by beautiful artwork.
---
What did you think of 'Dub!: A Campervan Adventure'? Share your thoughts in the comment section below!
---
The above links are affiliate links. I receive a very small percentage from each item you purchase via these link, which is at no extra cost to you. If you are thinking about purchasing the book, please think about using one of the links. All money received goes back into the blog and helps to keep it running. Thank you.
Like us on Facebook – Tweet us on Twitter – Pin us on Pinterest