The Wild World of Wiley and JuJu by Greg Walter – Book Review
The Wild World of Wiley and JuJu by Greg Walter – Book Review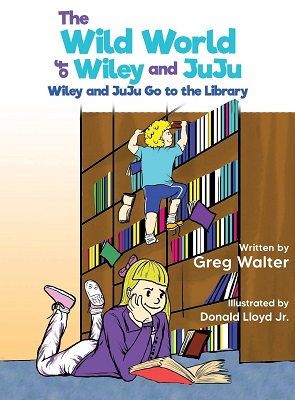 The Wild World of Wiley and JuJu
Wiley and JuJu Go to the Library
Author – Greg Walter
Publisher – Halo Publishing International
Pages – 24
Released – 27th October 2020
ISBN-13 – 978-1612449296
Format – hardcover
Rating – 4 Stars
I received a free copy of this book.
This post contains affiliate links.


Synopsis
Every child likes to have adventures, but what happens when things get out of control? In "The Wild World of Wiley and JuJu: Wiley and JuJu Go to the Library", older sister JuJu is left to clean up the destruction caused by her frightened younger brother, Wiley.
While books are falling off shelves and scattering everywhere, JuJu scrambles to catch Wiley and convince him to rejoin storytime. Storytime is fun, especially when it's about your favorite animal!
Wiley and Juju are staying at the library for storytime whilst their mum goes shopping. Not long into the story, Wiley starts to get bored and decides to go on an adventure in the library. He waits for his chance and then sneaks away. Juju see's her little brother start to have fun on the shelves, under the shelves, and with the books but she can't just leave as the librarian will notice.
Eventually, Juju sees her opportunity to leave and find her brother, but he has left a trail of mess. Can she tidy up after him and convince him to join the group before the librarian notices and tells their mum he was misbehaving?
For anyone who has ever had to run around after a younger sibling, you will probably have lived through stories like this. Both children in the book are very likeable. Wiley is just a young boy who craves adventure, he doesn't want to sit still listening to a story, he wants to explore as all little kids do. Juju is the responsible one who loves her brother and wants to make sure he comes to no harm and tidy up after him.
The book is sweet and also features some colourful, full-page artwork showing the children and their time at the library, plus the mess Wiley makes.
I presume from the title that this is the first book in a planned series and I look forward to reading more about the children's adventures.
---
What did you think of 'The Wild World of Wiley and JuJu'? Share your thoughts in the comment section below!
---
The above links are affiliate links. I receive a very small percentage from each item you purchase via these link, which is at no extra cost to you. If you are thinking about purchasing the book, please think about using one of the links. All money received goes back into the blog and helps to keep it running. Thank you.
Like us on Facebook – Tweet us on Twitter – Pin us on Pinterest