Bunnies in a Sleigh by Philip Ardagh – Book Review
Bunnies in a Sleigh by Philip Ardagh – Book Review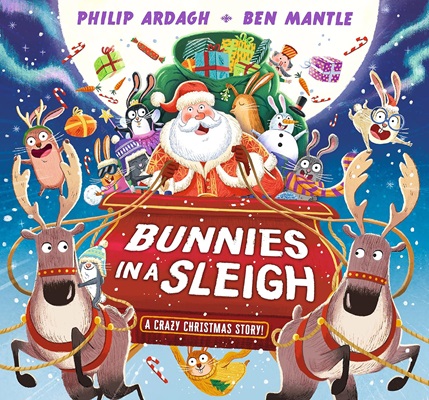 Bunnies in a Sleigh
Author – Philip Ardagh
Illustrator – Ben Mantle
Publisher – Walker Books
Release Date – 5th October 2023
Pages – 32
ISBN 13 – 978-1529507126
Format – Hardcover
Star Rating – 4
I received a free copy of this book.
This post contains affiliate links.

Synopsis
The Sunnytown bunnies are back for a third picture book adventure, and it might just be their best one yet! It's Christmas Eve and Santa's elves have fallen suspiciously unwell (just WHO gave them all those candy canes?), so it looks like Santa needs some help. Luckily, our gang of vehicle-loving bunnies are here to the rescue.
Cue chaos at every turn – hopping in and out of chimneys, getting stuck in snow, stuffed in stockings, and having the time of their lives on Santa's sleigh. It's a crazy Christmas, but it's SO MUCH FUN.
Bunnies in a Sleigh is the third book in the Sunnytown Bunnies series by author Philip Ardagh, after Bunnies on the Bus and Bunnies in a Boat.
In the last two books, the Bunnies have been both hilarious and naughty, this time though they are still very amusing but have tamed their naughty side a little as they help Santa deliver his presents.
The book has been written in a near-perfect rhyming style and you get to see the Bunnies riding on Santa's sleigh after the elves ate a little too much sweet stuff and didn't feel very well.
The illustrations are superb. They are bright and colourful and they capture all the moments perfectly, especially the Bunnies expressions.
Overall, if you are looking for a Christmas book to give your child/guardian (and you) a giggle then this is certainly one to pick up. I was a little disappointed that the Bunnies weren't as mischievous as in the previous books but we can't have them ruining Christmas, can we!!
---
Purchase Online:
Philip Ardagh

Philip Ardagh is a prolific writer who has been published in over 40 languages around the world. His titles include the bestselling Eddie Dickens trilogy, the Stick and Fetch series and Bunnies on the Bus illustrated by Ben Mantle. He has also collaborated with illustrator Elissa Elwick on the Little Adventurers trilogy of picture books and You Can't Count on Dinosaurs. He stands two metres tall with a most impressive beard.
Author Links:
---
The above links are affiliate links. I receive a very small percentage from each item you purchase via these links, which is at no extra cost to you. If you are thinking about purchasing the book, please think about using one of the links. All money received goes back into the blog and helps to keep it running. Thank you.