Bunnies in a Boat by Philip Ardagh – Book Review
Bunnies in a Boat by Philip Ardagh – Book Review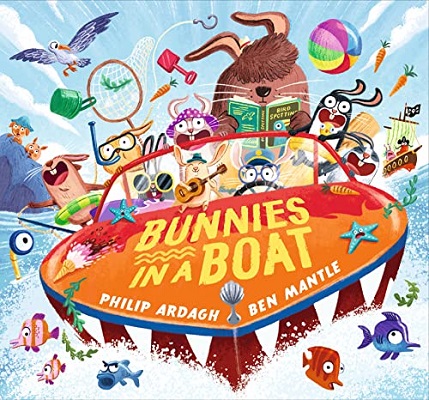 Bunnies in a Boat
Author – Philip Ardagh
Illustrator – Ben Mantle
Publisher – Walker Books
Release Date –
Pages – 32
ISBN 13 – 978-1529506266
Format – ebook, paperback, hardcover
Star Rating – 5
I received a free copy of this book.
This post contains affiliate links.

Synopsis
If you enjoyed Bunnies on a Bus then you're going to LOVE this, because – hold onto your tails! – the bunnies are BACK! And this time they're in … a BOAT!
It's time for another wild bunny-tastic adventure! And this time, the bunnies have commandeered a BOAT! All across Sunnytown Beach, the Bunnies are dashing and a-splashing on a speedboat frenzy. They whoosh past the sail-boats, and zoooom across the sand, then it's up on to the jetty where silly billy Bunnies get all covered in spaghetti! But, oh no, where are the bunnies off to now? To the airport, across the tarmac … it's bunnies on the PLANE. Here we go again…
The naughty bunnies are back and they have left their bus behind and now they have a boat!
Bunnies in a Boat is a hilarious rhyming children's picture book about, as you may have guessed from the title, bunnies that are in a boat.
On a lovely summer's day, the animals of Sunny Town are enjoying their time at the beach and in the sea but the bunnies are about to cause mayhem as they speed about dashing, splashing, and a-crashing. Not only do they cause trouble at sea but inland too.
The book is illustrated with bright, colourful, full-page illustrations that are comical to look at. There is so much going on within each drawing that it will take you a minute just to look at each page and see all the animal's expressions. If the words don't give you a giggle the images will.
The rhyming text is kept to a minimum and parts repeat throughout which will help new readers learn the words.
Overall, Bunnies in a Boat is a cheeky, amusing, and rib-tickling children's book. It will entertain the reader and just may become a bedtime favourite until the next book comes out. Oh no – the bunnies have found a plane!!!
---
Purchase Online:
Philip Ardagh

Philip Ardagh is a prolific writer who has been published in over 40 languages around the world. His titles include the bestselling Eddie Dickens trilogy, the Stick and Fetch series and Bunnies on the Bus illustrated by Ben Mantle. He has also collaborated with illustrator Elissa Elwick on the Little Adventurers trilogy of picture books and You Can't Count on Dinosaurs. He stands two metres tall with a most impressive beard.
Author Links:
---
The above links are affiliate links. I receive a very small percentage from each item you purchase via these links, which is at no extra cost to you. If you are thinking about purchasing the book, please think about using one of the links. All money received goes back into the blog and helps to keep it running. Thank you.