Gustavo the Shy Ghost by Flavia Z. Drago – Book Review
Gustavo the Shy Ghost by Flavia Z. Drago – Book Review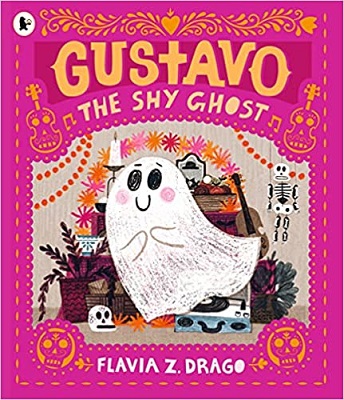 Gustavo the Shy Ghost
Author – Flavia Z. Drago
Publisher – Walker Books
Pages – 40
Released – 21st September 2021
ISBN-13 – 978-1406398502
Format – ebook, paperback, audio
Rating – 4 Stars
I received a free copy of this book.
This post contains affiliate links.


Synopsis
Gustavo is a ghost. He is good at doing all sorts of paranormal things, like walking through walls, making objects fly and glowing in the dark. And he loves playing beautiful music on his violin. But Gustavo also has a problem. He is SHY. Which means some things are harder for him to do, like getting in a line to buy eye-scream or talking to the other monsters.
But Gustavo longs to be a part of something, he longs to be seen. More than anything, he wants to make a friend. So, plucking up all his courage, he sends a very special letter: "Dear Monsters, I would like to invite you to my violin concert at the Day of the Dead party…"
With exquisite detail and humour, Flavia Z. Drago's vivid illustrations tell a sweet and offbeat story of friendship and courage.
Gustavo is a ghost, a very, very shy ghost. He doesn't know how to make friends with the other monsters and feels like no one can ever see him. What he does like is playing his violin.
One day Gustavo has an idea. He writes a letter to the other monsters inviting them to his Day of the Dead concert which he is holding in the cemetery where he will play his violin for them and hopefully they will like it and become his friend. But will his plan work?
The first things that I noticed about this book are how large it is, around A4 size, and how amazing the illustrations are both on the bright cover and the more subtle drawings inside. There is so much to see on every page.
You might be expecting a children's book featuring ghosts and monsters to be scary, but it certainly isn't. Gustavo is exceptionally cute. He loves being helpful, he's kind, and he adores playing the violin. The monsters in the book do normal things like playing together, eating 'ice-scream', and walking their pets.
This is a beautiful book that would be especially helpful for a shy child, as they will be able to identify with the main character, even if he is a ghost. It is a fantastic read, it has a lovely message to it, and will keep children entertained. The perfect read for Halloween or for Day of the Dead, which will also be a talking point for the readers.
Purchase Online From:
---
What did you think of 'Gustavo the Shy Ghost'? Share your thoughts in the comment section below!
---
The above links are affiliate links. I receive a very small percentage from each item you purchase via these links, which is at no extra cost to you. If you are thinking about purchasing the book, please think about using one of the links. All money received goes back into the blog and helps to keep it running. Thank you.
Like us on Facebook – Tweet us on Twitter – Pin us on Pinterest – Join us on Instagram