Mouse and Mole: Lo and Behold! by Joyce Dunbar – Book Review
Mouse and Mole: Lo and Behold! by Joyce Dunbar – Book Review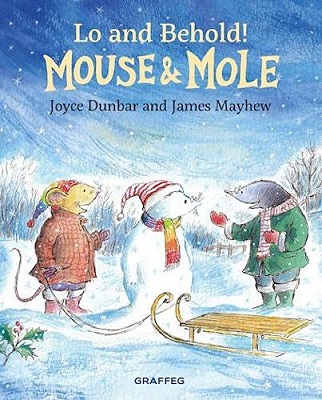 Mouse and Mole: Lo and Behold!
Author – Joyce Dunbar
Illustrator – James Mayhew
Publisher – Graffeg
Pages – 32
Released – 21st October 2021
ISBN-13 – 978-1914079658
Format – ebook, paperback
Rating – 5 Stars
I received a free copy of this book.
This post contains affiliate links.


Synopsis
Celebrate this festive season with three brand new Mouse and Mole short stories by Joyce Dunbar and James Mayhew.
Snowmole
Mole wakes one morning to find the ground is covered in snow! Mouse and Mole decide to build their very own snowy friend – Snowmole – but Mole doesn't want to leave him alone so decides to keep him company all night long and wakes to find another snowy surprise.
Lo and Behold!
Mole is impatiently waiting for Christmas to come when Mouse presents Mole with a brilliant gift – an advent calendar! Mouse and Mole use the advent calendar to countdown to Christmas and complete all the festive chores that need to be done and before they know it…it's Christmas Eve!
A Bump in the Night
Late at night on Christmas Eve, Mouse and Mole are getting ready for bed, when they realise they've forgotten a few important tasks – putting the stockings by the chimney, leaving the mince pies and cherry brandy out for Father Christmas and sending their Christmas lists – but as they finish these jobs something goes BUMP! in the night…
Mouse and Mole: Lo and Behold! is a children's book containing three stories. Snowmole, Lo and Behold! and A Bump in the Night. It is also book number seven in the Mouse and Mole series.
In Snowmole, the friends wake up to find that snow has fallen overnight. They decide to spend the day playing in it and then they make a snowmole but Mole feels sorry for it being left outside on its own and wants to stay with it, but Mouse has a better idea.
In Lo and Behold!, it is the first day of December and time to get the Advent calendar out. As Mouse goes off to get a hook to hang it up, Mole gets overexcited and starts opening all the doors as he wants Christmas to come quicker, but what will Mouse have to say?
In A Bump in the Night, It is Christmas Eve and the two friends have gone to bed, ready for the big day tomorrow. However, during the night they both start to worry if they have left enough mince pies out or whether they have posted their Christmas lists. So they each sneak out of bed trying not to wake the other one, but who might they bump into?
This collection of stories reminds me of the books I used to read as a child. Very sweet, lovely stories that feel a little old-fashioned but are ideal for getting children into the Christmas spirit. They feel warm and inviting and are perfect for bedtime.
The illustrations are beautiful and adorn every page, making the tales come to life. They are made to look like small snapshots of the friend's lives with their rough edges and scenes that carry on from one another.
Mouse and Mole: Lo and Behold! is a superb book. I loved everything about it, from the two caring and loving friends to the nostalgic feeling you get when you read it. It is a tremendous read and I am sure children will adore it.
Purchase Online From:
---
What did you think of 'Mouse and Mole: Lo and Behold!'? Share your thoughts in the comment section below!
---
The above links are affiliate links. I receive a very small percentage from each item you purchase via these links, which is at no extra cost to you. If you are thinking about purchasing the book, please think about using one of the links. All money received goes back into the blog and helps to keep it running. Thank you.
Like us on Facebook – Tweet us on Twitter – Pin us on Pinterest – Join us on Instagram