Be Amazing! by Chris Hoy – Book Review
Be Amazing! by Chris Hoy – Book Review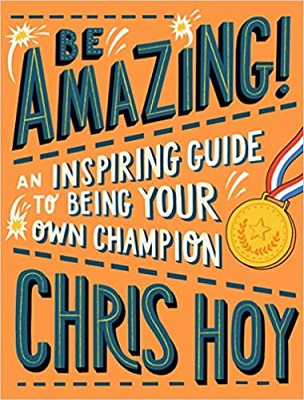 Be Amazing!
An inspiring guide to being your own champion
Author – Chris Hoy
Publisher – Walker Books
Pages – 144
Released – 1st October 2020
ISBN-13 – 978-1406394733
Format – ebook, paperback
Review by – Stacey
Rating – 4 Stars
I received a free copy of this book.
This post contains affiliate links.


In this inspiring and confidence-boosting guide, the cyclist Sir Chris Hoy, six-time Olympic Champion, shows kids that with the right mindset, they have the power to do something extraordinary.
As a boy, Chris Hoy never would have believed that he could have achieved his dream of becoming an Olympic Champion. In his first motivational book for children, he shares everything he has learned on his journey to help inspire kids to fulfil their potential and be the best they can be.
The book brings together his incredible personal story with practical ideas for building confidence, resilience and self-belief, as well as dealing with failure. An essential read for any young person with a big dream, this guide shows that anything is possible with a positive attitude!

Be Amazing! by Olympic Gold Medalist Sir Chris Hoy is an inspirational and motivational tool for children. The book is all about teaching children to believe in themselves, to make the most out of their lives doing the things they enjoy.
The book is split into six sections:-
– Get Inspired
– Dare to Dream
– Feel Positive
– Go For It
– Fantastic Failure
– Enjoy It.
The book covers Chris Hoy's life from childhood and how he became interested in cycling by a certain 80s movie, to him winning his medals. He uses the skills he learned along the way to help children be the best they can as well as snippets of information from other famous people such as Beyonce, Roger Federer, Ed Sheeran, and Anthony Joshua.
It covers subjects like Overcoming Setbacks, Dream Big, How to be an Amazing Loser, and Attitude. All very important things for children to learn, especially that they can't always win, but rather than giving up they need to pick themselves up and keep on working at their skills, and one day they will get there.
The book is very wordy, so if you have a child that doesn't like reading they may struggle with this, but hopefully, they will keep going, perhaps get them to read it in short sections. Also, it sometimes felt like Chris Hoy went on a little bit and some of the sections were a tad boring, especially the beginning where it is pages of text about why he wrote this book.
I like the bright orange cover and the orange illustrations throughout as they certainly make this book stand out and eye-catching.
A worthy and well thought out book that hopefully will help children to see themselves in a better light and to make them understand that if they have a dream they need to work at it and keep going no matter what others say or the past dictates. Doing something you love will make you happy so keep at it.
Book Reviewer – Stacey
---
Purchase online from:
---
About the Author

Sir Chris Hoy MBE is Great Britain's joint most successful Olympic athlete of all time, with six gold medals and one silver, and together with his 11 World Championship gold medals he is the world's most successful track cyclist of all time.
He won his first Olympic gold medal in Athens 2004 in the 1km time trial before switching his focus to three other track sprint events – the Keirin, Sprint and Team Sprint for the 2008 Olympics in Beijing. He went on to win a gold medal in all three events to become the first British Olympian in one hundred years to win three gold medals at a single Games.
Sir Chris Hoy was voted 2008 BBC Sports Personality of the Year, and he was also awarded a Knighthood in the 2009 New Year Honours list. In 2012 at his home Olympic Games in London, Chris won his fifth and sixth gold medals – in the Keirin and Team Sprint – becoming Great Britain's most successful Olympic athlete ever.
Following his retirement from cycling in 2013, he has written an autobiography 'Chris Hoy: The Autobiography', co-authored the Flying Fergus series with Jo Nadin and most recently the cycling guide 'How To Ride a Bike' in 2018.
In June 2016, Chris added to his record list of achievements when he finished the world's most demanding motorsport endurance race, the Le Mans 24 Hours, on his debut. Chris was also a key part of the BBC TV's commentary and punditry team covering the 2016 Rio Olympics and 2014 Commonwealth Games in Glasgow.




---
What did you think of Be Amazing!? Share your thoughts in the comment section below!
---
The above links are affiliate links. I receive a very small percentage from each item you purchase via these link, which is at no extra cost to you. If you are thinking about purchasing the book, please think about using one of the links. All money received goes back into the blog and helps to keep it running. Thank you.
Like us on Facebook – Tweet us on Twitter – Pin us on Pinterest