100 Adventures to Have Before You Grow Up by Anna McNuff – Book Review
100 Adventures to Have Before You Grow Up by Anna McNuff – Book Review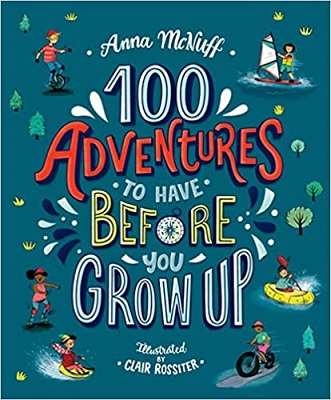 100 Adventures to Have Before You Grow Up
Author – Anna McNuff
Illustrator – Clair Rossiter
Publisher – Walker Books
Pages – 144
Released – 2nd April 2020
ISBN-13 – 978-1406388633
Format – paperback
Review by – Stacey
Rating – 3 Stars
I received a free copy of this book.
This post contains affiliate links.


Discover a life outdoors with this exuberant guide packed with 100 different big and small adventures.
From building a den, to going on a skateboard journey, visiting a lighthouse and telling midnight ghost stories, every adventure will inspire you to get outdoors and go exploring. Created by adventurer Anna McNuff, this book will encourage everyone to fly by the seat of their adventure pants, no matter where they live!

100 Adventures to Have Before You Grow Up is written by adventurer Anna McNuff and is exactly as the title states. The book contains 100 different adventures that children should do, take part in, etc before they grow up.
The layout of the book is done well. The information about each adventure is clear, the illustrations are wonderful and give the book some much-needed colour. There is even a tick off section at the back of the book so the young reader can record what adventures they have completed.
Some adventures are big, some are small. Whilst I think some are worthwhile and kids should do them, others I kind of wondered if they had been added to make the count up to 100, such as 'Learn the Names of Four Trees' or 'Listen and Look for Birds', neither are very adventurous.
My issue with the book though is that a lot of the 'adventures' will only be obtainable if the child comes from a rich family who likes to travel. Including:-
– Travel by Ski
– Visit a Natural Wonder of the World
– Journey to Where You Grandparents Were Born (Hard If they were born in a different country)
– Travel to Where Your Food Comes From
– Go Island Hopping
– See Your Favorite Animals in the Wild
– Go on a Canal Boat Journey
– Visit a Volcano.
Or that most of the adventures a child, even an older child wouldn't be able to do them on their own, they are family adventures, such as:-
– Spend the Night in a Wilderness Hut
– Climb a Mountain
– Take a Sleeper train
– Go on a Night-Time Hike
– Go Sailing
– Sleep Under the Stars for Seven Nights in a Row
– Go On a Long-Distance Cycling Adventure
– Find a Natural Hot Spring and Bathe in it.
Unfortunately, I think some children might find this book frustrating if they want to complete them all. I think it has some fun ideas and if the book was called '100 Adventures to Pick and Choose From' then kids will not take the title as literal and think they should be doing them all.
A nice idea but In my opinion, the adventures need to be more realistic and available to a large portion of children in society, where a lot of these are not.
Book Reviewer – Stacey
---
Purchase online from:
---
About the Author

Anna McNuff is an adventurer, speaker, author and self-confessed mischief maker. Named by The Guardian as one of the top female adventurers of our time, Condé Nast Traveller included her in a list of the 50 most influential travellers in the world. She is also the UK ambassador for Girl Guiding.
Her major journeys include cycling a beautiful pink bicycle through each and every state of the USA, running the length of New Zealand and exploring the peaks and passes of The Andes mountains – a journey in which she ascended the equivalent to eleven times the height of Everest on a bicycle.
In the summer of 2019, she set off on her most ambitious adventure yet – a 2,300+ mile (90 marathon) run through Britain… in her bare feet. Starting in the Shetland Islands and ending five months later in London, she weaved her way along rugged coastlines, through small villages, across moors, along beaches, over farmland and even pitter-pattered down the odd picturesque A-road too. All the way along, she gave talks to the young women of Britain about taking on challenges of their own.
Much closer to home, Anna has also spent a month cycling across Europe directed entirely by social media, run the length of Hadrian's wall dressed as a Roman Soldier, and the length of the Jurassic Coast, dressed as a dinosaur. As you do.
She can often be found writing in a local café, in her home city of Gloucester and will never turn down a slice of lemon meringue pie.





---
What did you think of 100 Adventures to Have Before You Grow Up? Share your thoughts in the comment section below!
---
The above links are affiliate links. I receive a very small percentage from each item you purchase via these link, which is at no extra cost to you. If you are thinking about purchasing the book, please think about using one of the links. All money received goes back into the blog and helps to keep it running. Thank you.
Like us on Facebook – Tweet us on Twitter – Pin us on Pinterest