Leif the Unlucky Viking by Gary Northfield – Book Review
Leif the Unlucky Viking by Gary Northfield – Book Review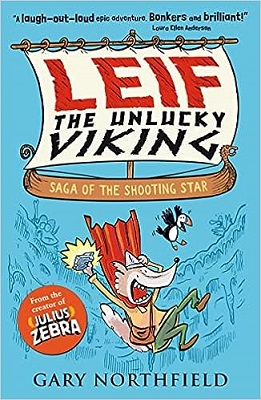 Leif the Unlucky Viking
Saga of the Shooting Star
Author – Gary Northfield
Publisher – Walker Books
Release Date – 3rd August 2023
Pages – 320
ISBN 13 – 978-1406383416
Format – ebook, paperback
Star Rating – 4.5
I received a free copy of this book.
This post contains affiliate links.

Synopsis
An hilarious new illustrated chapter book series featuring the hapless adventures of Leif the Unlucky Viking wolf pup, from the creator of the hugely popular Julius Zebra books!
Leif is not unlucky. Yes, he does split his trousers at least once a week. And yes, he's always tripping up and falling down a hole. But he's determined to become a true Viking hero, just like his dad. Can he unravel the riddles of a witch to find a magical shard of rock that has fallen from a shooting star and wield its mystical powers?
He will have to journey deep into the heart of polar bear country, outwitting all kinds of mythological creatures along the way. Thankfully, he has Olaf, the annoying duck, Toki, the nincompoop Puffin, and Flora, the incredibly smelly Muskox, for company. He's going to need all the luck he can get!
Viking wolf pup Leif wants to be big, brave, and fearsome like his dad. The trouble is that Leif is rather unlucky and very clumsy and most people just laugh at him rather than fear him.
After a shard from a shooting star crashes on Earth during a battle between Thor and Loki, a witch comes asking for Leif's dad's help to find it but he is too busy. The witch then turns her attention to Leif and convinces him to go look for the shard. But can Leif be a fearsome and clever Viking?
I've read author Gary Northfield's Julius Zebra novels and couldn't stop laughing throughout them, so I was really looking forward to reading this book. Leif, the wolf pup, is an amusing, fun character who just can't get anything right. He is certainly a Calamity Jane and as such no one trusts him, including his father and sister.
Going on the adventure with Leif are some great characters including Olaf the duck who states exactly what they think and makes for some light-hearted comical moments.
With fabulous cartoon-like illustrations throughout, this middle-grade story will have children giggling along and invested as they follow the adventures of Leif and his friends as they travel harsh and brutal lands. This is another amazing story from an author who knows how to write laugh-out-loud scenes.
---
Purchase Online:
Gary Northfield

Gary Northfield has been writing and drawing comics since 2002. He is most famous for Derek the Sheep – a comic strip that appeared in The Beano. Gary has also created comics for National Geographic Kids magazine, The Phoenix, The Dandy, The DFC, Horrible Histories magazine, Horrible Science magazine and The Magical World of Roald Dahl.
Gary is the author of the highly-acclaimed The Terrible Tales of the Teenytinysaurs published by Walker Books. One of his favourite subject matters is animals and their jolly lives. Gary often wonders what they think about the world they live in. Gary lives in Belvedere, Kent.
Author Links:
---
The above links are affiliate links. I receive a very small percentage from each item you purchase via these links, which is at no extra cost to you. If you are thinking about purchasing the book, please think about using one of the links. All money received goes back into the blog and helps to keep it running. Thank you.