Lizzie's Dream Journal by Charlie King – Book Review
Lizzie's Dream Journal by Charlie King – Book Review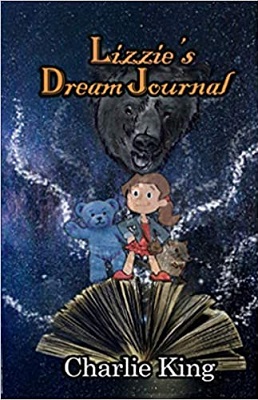 Lizzie's Dream Journal
Author – Charlie King
Publisher – Caab Publishing Ltd
Pages – 167
Released – 2nd December 2020
ISBN-13 – 978-1913781057
Format – ebook, paperback
Rating – 4 Stars
I received a free copy of this book.
This post contains affiliate links.


Synopsis
After the death of her father, Lizzie Barnes' life takes an interesting turn when her mum brings home a journal.
Lizzie decides to use the journal to write short stories involving her beloved teddy bear Rodford and his arch-enemy Dr Ofdor, a villainous grizzly bear. She soon notices it is no ordinary journal as people around her begin to have dreams based around her stories.
When Lizzie begins to experience the dreams for herself, she finds that as the creator, the rules of the journal can work against her.
Lizzie, with the help of Rodford and a rat named Ridgeley, must explore the different worlds while facing the dangers she created, including Dr Ofdor, to free herself from the workings of the journal.
Lizzie's Dream Journal is a beautiful middle-grade story about a young girl called Lizzie whose Police Officer father has just died. Lizzie shuts herself away in her room and refuses to tell anyone that her dad has died, even her best friend. To help her open up her mum gives her a journal to write her thoughts in or make up stories.
Lizzie decides she doesn't want to put her feelings and thoughts down but is happy to write stories. She features her favourite teddy Rodford as a hero but all hero's need a villain and so Dr Ofdor becomes his enemy. However, when Lizzie falls asleep the characters come alive, but not everything is how she planned it.
I would expect the book is quite a hard read for some children given that it deals with the death of a parent and the grief that comes from losing a loved one, however, I feel this may also be a wonderful read for those children that have been through this, to make them understand they are not alone and see how one young girl deals with her emotions by the power of stories.
Lizzie not only has the death of her dad to deal with though she is being bullied at school by a group of nasty girls. She tries to stay out of their way but it is like they have made her their target, someone to abuse daily.
Through Lizzie's stories, the book is actioned-packed and has a fantasy element to it. The stories that she writes are both fascinating and imaginative. I also love the idea that you can't write speech into the stories and that if you leave them for too long you can't complete them.
This is a lovely book that weaves a lot of subplots together to create a story that not only deals with some issues that children may be facing but also how creative they can be when they put their minds to it and that there are different ways of opening up about your feelings and if you can't talk about them out loud then try writing about them, even in a fun way like Lizzie does.
It also shows how brave and tough Lizzie can be as she learns to stand up for herself and that kindness goes a long way.
Purchase Online From:
---
What did you think of 'Lizzie's Dream Journal'? Share your thoughts in the comment section below!
---
The above links are affiliate links. I receive a very small percentage from each item you purchase via these link, which is at no extra cost to you. If you are thinking about purchasing the book, please think about using one of the links. All money received goes back into the blog and helps to keep it running. Thank you.
Like us on Facebook – Tweet us on Twitter – Pin us on Pinterest