Family by Owen Mullen – Book Review
Family by Owen Mullen – Book Review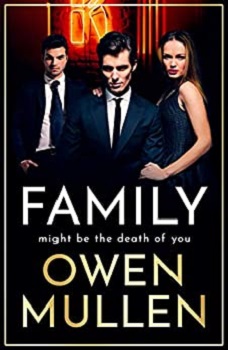 Family
Author – Owen Mullen
Publisher – Boldwood Books
Pages – 410
Released – 21st January 2021
ISBN-13 – 978-1800484184
Format – ebook, paperback, audio
Rating – 5 Stars
I received a free copy of this book.
This post contains affiliate links.


Synopsis
Family – might be the death of you…
The Glass family business is crime, and they're good at what they do. Vengeance took Luke Glass behind bars – but now he's free and he's never going back. Luke wants out of the gangster life – all he has to do is convince his family to let him go.
His brother holds the reins of the South London underworld in his brutal hands – nobody tells Danny Glass no and expects to live – not even DCI Oliver Stanford, bent copper and one of the Met's rising stars. The way Danny sees it, his younger brother and sister Nina owe him everything. The price he demands is loyalty, and a war with their arch enemy gives him the leverage he needs to tie Luke to the family once more.
Luke can't see a way out, until Danny commits a crime so terrible it can't be forgiven. Love turns to hate when secrets are unearthed which pit brother against brother. Left with no choice but to choose a side, Nina holds the fate of the family in her hands.
'Family' is the latest novel from the pen of Scottish author, Owen Mullen. We're introduced to Team Glass; Danny and his younger siblings, Nina and Luke. Danny built up his empire after the death of his alcoholic father and now holds an area south of the River Thames in a vice like grip. The story is told in the past tense and we see some of the action through the eyes of Luke and his sections are written in the first person, with the remainder in the third person.
Luke has served a seven year prison sentence for his involvement in the death of a rival gang boss, Albert Anderson. Now released, he wants to start a new life away from his brother's Machiavellian influence but someone is watching his every move and that someone wants to make him suffer for the past. Events soon supersede his plans and the stage is set for a gangland war to rival any in London's history.
This book definitely packs a punch with a shocking opening scene. Its relentless pace takes the reader on a rollercoaster ride through the streets of London, from seedy pubs and clubs to the luxurious house owned by the senior police officer that Danny has in his pocket. Rollie Anderson, Albert's son, has made Danny look foolish; we know Danny will retaliate but how and when?
The plot and subplots lay before us many negative human emotions; fear, disgust, shame, hatred, greed, envy, revenge and guilt. In contrast, we have small glimmers of positivity in the form of hope, trust, loyalty and love. The structure is tight and the characters complex. We witness Luke's struggle with his conscience; the old life dragging him back into crime, against a chance of freedom to start afresh. We see how Nina resorts to desperate measures to cover her tracks and we watch as Danny descends from mindless cruelty to sadistic madness as his grip on reality diminishes. In addition, we glimpse into the lives of some peripheral players so that they can then act out memorable and heart-wrenching cameos.
In the world of the gangster, you have to be ruthless and without exception, the main participants in this story fit the bill. This is a tale of survival of the fittest; back the vanquished side and you're literally dicing with death. There are a host of literary devices on display here, all playing their part in bringing this multi-layered, slick plot to its conclusion. We have foreshadowing in abundance and I am particularly impressed with the misdirection that the author slips in, and commend him for his ingenuity.
'Family' will appeal to fans of the hard-hitting thriller genre but if you're of a delicate disposition some of the scenes may be upsetting. For me, it was a great read and I have no hesitation in awarding five stars.
Purchase Online From:
---
What did you think of 'Family'? Share your thoughts in the comment section below!
---
The above links are affiliate links. I receive a very small percentage from each item you purchase via these link, which is at no extra cost to you. If you are thinking about purchasing the book, please think about using one of the links. All money received goes back into the blog and helps to keep it running. Thank you.
Like us on Facebook – Tweet us on Twitter – Pin us on Pinterest