Big Sky Mountain by Alex Milway – Book Reviews
Big Sky Mountain by Alex Milway – Book Reviews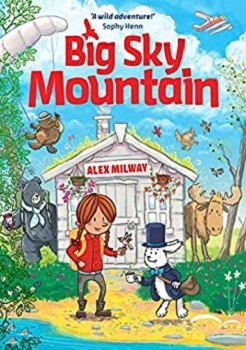 Big Sky Mountain
Author – Alex Milway
Publisher – Piccadilly Press
Release Date – 10th June 2021
Pages – 176
ISBN 13 – 978-1848129726
Format – ebook, Paperback, Audio
Star Rating – 4
I received a free copy of this book.
This post contains affiliate links.

Synopsis
An exhilarating new series set in the great outdoors, from HOTEL FLAMINGO author Alex Milway
Welcome to Big Sky Mountain: a home for everyone!
Rosa has come from the city to live with Grandma Nan in the wilds of Big Sky Mountain. And what surprises are in store for her! Grandma Nan is not exactly an ordinary grandma, and Big Sky Mountain is like nowhere Rosa has dreamed about before. Grandma Nan lives in an old wooden cabin with Albert the moose and Little Pig the pygmy owl, and spends every day out on adventures. From canoeing down rapids to making friends with the local animals, life never stays still for long on Big Sky Mountain!
Rosa has a lot to learn, and when unexpected visitors to the mountain cause a bit of a ruckus, can she rise to the challenge, and be the mountain girl Grandma Nan needs her to be?
Big Sky Mountain is the first in a new series by children's author and illustrator Alex Milway. The book is about a young girl called Rosa who is flown to the countryside in the middle of nowhere to stay with her Grandma Nan in her wooden cabin, that she built herself, and is surrounded by mountains, a river, and lots of animals including a chatty Moose and a moody Owl.
The book is quite small in size and features lots of amazing illustrations. Rosa is a lovely young girl who has gone to stay with her Grandma Nan for reasons we don't really get to know, except for one line about her father. I would have loved some backstory as to why she was there. The open countryside, the animals, and the lifestyle is a big shock to her, but she is determined to do well and be helpful.
The tale is a fun one with talking animals and parachuting Beavers. The story takes a few twists as Rosa and Nan set out to find the beavers and see why they are in the mountains and end up in the middle of something.
It is an interesting start to the series that will give the reader a wonderful tale of life in the mountains as well as have them giggling with or at the talking animals. My favourite happens to be Bear.
Below you can find my review of the second book in the series – Big Sky Mountain: The Forest Wolves.
---
Purchase Online: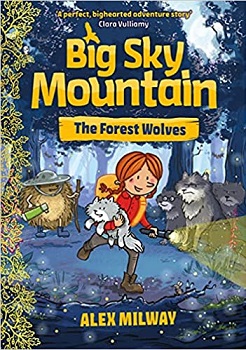 Big Sky Mountain: The Forest Wolves
Author – Alex Milway
Publisher – Piccadilly Press
Release Date – 3rd February 2022
Pages – 176
ISBN 13 – 978-1848129733
Format – ebook, Paperback, Audio
Star Rating – 5
I received a free copy of this book.
This post contains affiliate links.

Synopsis
Welcome to Big Sky Mountain: a home for everyone!
There is never a dull day on Big Sky Mountain! Rain or shine, there is always something that needs doing. Rosa and Grandma Nan are busy building a bigger cabin when a storm strikes, and a host of animals descend for shelter. There is one unexpected visitor: a tiny wolf cub. This little wolf doesn't seem like the scary, giant-fanged forest wolves that Rosa has heard about! Can the cub really be part of their pack? Rosa and Grandma Nan set off into the forest to find out . . .
Big Sky Mountain: The Forest Wolves, is the second book in the Big Sky Mountain series featuring young Rosa and her Grandma Nan who live in the mountains in an old wooden cabin.
In this second book, Rosa and her Grandma are building an extension to the wooden cabin, a bedroom for Rosa when a storm hits. They shelter inside the cabin, along with a whole host of animals from the mountain. A wolf cub lost and alone needs the help of Rosa and her Grandma but not everyone is happy with a wolf in their midst.
The Forest Wolves is the perfect sequel and most of the wonderful characters from the first book and a few new ones make an appearance, including a pack of wolves who are making the forest in the mountains their new home.
Rosa is starting to become more of a country girl and happily helps out with all the chores, including helping to build her new bedroom. Grandma is also realising that she is getting older and that she sometimes needs to let others help her.
The story is truly lovely and I adore how the wolves show the other animals that they are not as bad as they first seem, that's not to say they can't be dangerous, but the other animals don't need to be so scared of them. I also love how one of the biggest animals is quite scared of most things, even though the others think of him as a giant.
This is a series that children will become engaged with. A series that is intriguing, different, and has plenty of humorous moments. I can't wait to see what Rosa, her Grandma, and the animals get up to in the next book and what new creatures we may meet.
---
Purchase Online:
Alex Milway

Alex Milway is a full-time children's books author-illustrator and screenwriter. His books include Pigsticks and Harold (Walker Books) and, most recently, the Hotel Flamingo series (Piccadilly). He is the founder of the This Book Is Funny! children's book scheme working with schools and libraries and has huge experience running children's workshops around the UK, in China and the US.
Author Links:
---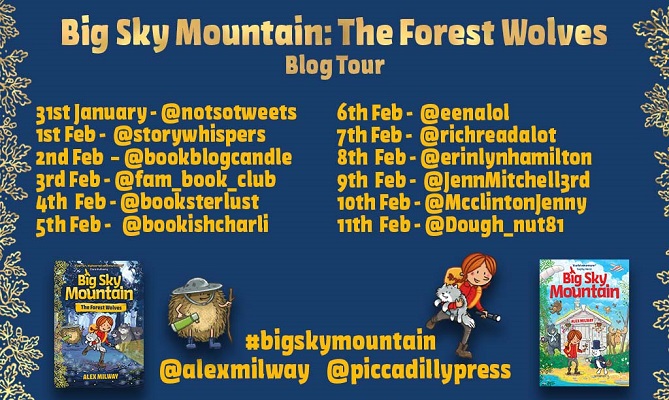 ---
Share your thoughts on Big Sky Mountain in the comment section below!
---
The above links are affiliate links. I receive a very small percentage from each item you purchase via these links, which is at no extra cost to you. If you are thinking about purchasing the book, please think about using one of the links. All money received goes back into the blog and helps to keep it running. Thank you.
Like us on Facebook – Tweet us on Twitter – Pin us on Pinterest – Join us on Instagram