Buenos Aires Triad by F.E. Beyer – Book Review
Buenos Aires Triad by F.E. Beyer – Book Review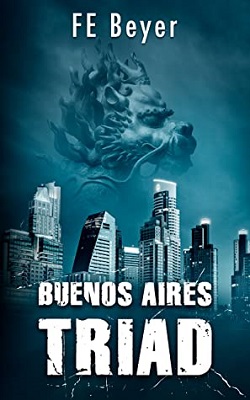 Buenos Aires Triad
Author – F.E. Beyer
Publisher – National Library of New Zealand
Release Date – 24th August 2021
Pages – 158
ISBN 13 – 978-0473588137
Format – ebook, Paperback
Star Rating – 3.5
I received a free copy of this book.
This post contains affiliate links.

Synopsis
A fast-paced noir featuring the Venezuelan and Chinese gangs of Argentina's capital…
When an armed robber shoots a British tourist in Buenos Aires, Lucas's life changes forever. A humble watch-seller moonlighting for the gang behind the robbery, Lucas picked the British woman as a target. After she dies from her wounds, the Argentine President orders the police to find the perpetrators at all costs.
Lucas wants out of the gang. Instead, he becomes more entangled. He joins gang-leader Gustavo in extortion work for the triads. Under orders from Boss Ping, Lucas collects cash from Chinese-owned supermarkets and throws Molotov cocktails at those who don't pay. But then police arrest Ping at her home…
From what I have read online F. E. Beyer is from New Zealand but has lived and worked in Argentina and China. He uses these experiences in Buenos Aires Triad which I believe is his first published novel.
It made a change to read a book set in Argentina although to some extent it just made me realise that many 21st century issues are universal, particularly when one looks at crime, poverty, immigration and failures in government. Buenos Aires did not seem too different from a typical western European city although Beyer's description of the Bolivia border area did sound further removed.
Beyer writes in an easy untaxing style. The plot, well detailed in the publisher's synopsis, is rather lightweight but the action ticks along.
I was initially empathetic with Lucas. He is obviously a loner who is keen to continue his late father's watch business which is struggling. He agrees to use his skills to provide a little information to some criminals and his involvement increases. As the story develops he becomes a person that he clearly loathes but how can he escape?
Buenos Aires Triad is narrated in the third person and for around the first half of the book it is from Lucas's perspective. We then followed Gustavo for a while and then to Boss Ping, neither of whom I could relate to so well.
As one would expect things get tougher for Lucas and I was wondering how things would develop. The "ending" when it came was all a bit sudden. Or was it just the start of a sequel? We will have to wait and see.
I found Buenos Aires Triad interesting because of the setting. I have awarded 3.5 stars.
---
Purchase Online:
F.E. Beyer

F.E. Beyer writes about true crime, travel, history, dead-ends, and politics. In 2021 he published the noir novella 'Buenos Aires Triad,' a realistic tale of low-end criminals in Argentina's capital.
To write this book, featuring Chinese triads and Venezuelan immigrants, Beyer drew on his many hours reading newspapers in Argentine cafés and four years living in China. His articles and reviews have appeared in the South China Morning Post, LA Review of Books, Asian Review of Books, Inside Indonesia, and Travelogues by Remote Lands. He resides in NZ.
Author Links:
---
Share your thoughts on Buenos Aires Triad in the comment section below!
---
The above links are affiliate links. I receive a very small percentage from each item you purchase via these links, which is at no extra cost to you. If you are thinking about purchasing the book, please think about using one of the links. All money received goes back into the blog and helps to keep it running. Thank you.
Like us on Facebook – Tweet us on Twitter – Pin us on Pinterest – Join us on Instagram