Parallel Lies by Georgia Rose – Book Review
Parallel Lies by Georgia Rose – Book Review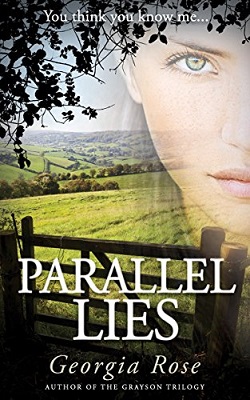 Parallel Lies
Author – Georgia Rose
Publisher – Three Shires Publishing
Pages – 329
Released – 12th September 2017
ISBN-13 – 978-0993331893
Format – ebook, paperback
Reviewer – Julie
I received a free copy of this book
Post Contains Affiliate Links
'My name is Madeleine, Madeleine Ross. It is a name chosen with thought and because it is classy, and that is what is needed here…'
Madeleine Ross has life exactly as she planned it.
Cosy cottage, friendly village, satisfying job.
Company… when she wants it.
It's an enviable existence for an independent young woman, and one she's keen to protect. Enter Daniel – strong, dependable and a danger to everything she's built. He's not something she was looking for, but hearts can't be controlled and maybe, just maybe he might be worth letting into hers.
But, all is not what it seems. Because Madeleine is hiding a lifetime of secrets. Deep secrets. And they never stay buried for ever.
Her darkest secret returns, like the proverbial bad penny. He is her first love, shadowy, dangerous, the baddest of bad boys. No matter how far she runs, or how well she hides, she can never escape him. Or her past.
Here he is, on her doorstep, with a proposition she is powerless to resist but which could devastate the future she hoped to have.
Can Madeleine satisfy the old love while keeping the new? You can't always get what you want but, desperate to preserve the life she has worked so hard for, Madeleine is willing to risk everything to prove that she can.
Review
'Parallel Lies' is the latest novel from British author Georgia Rose. The book has a contemporary setting, is written in the first person and the present tense. We meet the main character, Madeleine Ross and are gently dropped into her life with most of the story being told from her perspective.
Among her neighbours, Madeleine has some admirable foils to help move events along in the quiet village of Crowbridge. Whilst the first few chapters are scene-setters, we begin to realise from a little drip-feeding of Madeleine's thoughts, all is not what it seems.
As the tale progresses, we have more insights into Madeleine's habits and routines along with some delightful cameos from her supporting cast, particularly Sidney, the newsagent.
Georgia Rose's writing style is straightforward and very easy to follow. She maintains a good dialogue to description ratio and her characters have depth. We've all met pretentious people at community social events like Letitia and Ben. Placing these supporting players into her story adds a realism which anchors her plot to allow her a bit of licence with some of the slightly more improbable aspects.
This tempo builds slowly and the reader has to rejust their mind-set to accommodate the many layers of Madeleine as they are gradually revealed. If you have read the Grayson Trilogy, I think you will readily accept that Georgia Rose won't show her hand too quickly; if you haven't, stay with this tale through the early chapters and you will be rewarded.
There are some detailed descriptive passages, from Sidney's shop to the interior of the Bull pub and the area from which Madeleine originally came. The author touches on some domestic minutiae; be it eating soup with a neighbour, having a pub meal with a friend or shopping in the small local supermarket. These safe, cosy everyday occurrences give counter-balance to the grittier, more menacing aspects of the plot.
The underlying theme here is romance however turbulent waters stand in the way of Madeleine and her man but there isn't an over-reliance on a simple love story to carry the book. There are complexities and twists in abundance as the tale gathers pace so that by half way, I was definitely hooked.
I confess to having no idea if the scenario is credible but even if it isn't, the book is a jolly good read. If you are looking for an engaging story and don't mind a bit of adult content, you'll enjoy 'Parallel Lies'. I award Georgia Rose a well-deserved five stars and look forward to her next offering.
Reviewed by Julie

---
Have a read of our reviews of Georgia's books A Single Step' – 'Before the Dawn' and 'Thicker than Water
---
About the Author

Georgia Rose is a writer and the author of The Grayson Trilogy books: 'A Single Step', 'Before the Dawn' and 'Thicker than Water'.
Georgia's background in countryside living, riding, instructing and working with horses has provided the knowledge needed for some of her storylines; the others are a product of her overactive imagination!
Following a long stint working in the law Georgia set up her own business providing administration services for other companies which she does to this day managing to entwine that work along with her writing.
Her busy life is set in a tranquil part of rural Cambridgeshire where she lives with her much neglected family of a husband, two grown up children and two dogs.
Find out more about Georgia Rose by reading – 'The Writing Life of: Georgia Rose'





---