Before the Dawn by Georgia Rose – Book Review
Before the Dawn by Georgia Rose – Book Review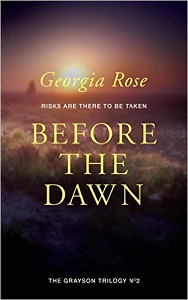 Before the Dawn
The Grayson Trilogy Book Two
Author – Georgia Rose
Publisher – Three Shires Publishing
Pages – 212
Release Date – 25th August 2015
Format – ebook, paperback
Reviewer – Julie
I received a free copy of this book
Contains Affiliate Links

…he moved closer and slowly ran the point of his blade along my jaw line as he spoke softly, intimately, to me. "So, you are Trent's woman. Now that is very…appealing." I glared back at him silently.'
There are testing times ahead for Grayson and Trent as trouble threatens Melton Manor. When an attack is made against those on the estate, Grayson gets caught in the middle finding herself and those around her in terrible danger. Terrified when she thinks tragedy has struck again she fights to protect those she now views as family and, suffering bloodshed and pain, confronts her fears – both brought by the enemy and by the one she loves.

This is the second novel in the Grayson Trilogy by British author Georgia Rose, who has departed somewhat from her previous genre to offer readers a fast-paced, action thriller, based on her original characters. Whilst an element of romance underpins this new tale, it now forms part of the backdrop rather than taking centre stage.
Clearly mindful that some will have read 'A Single Step' and other readers are new to her work, Rose drip-feeds a little information from the first book, without dwelling too much on rehashing the original story. This is a difficult balance but I think she achieves her objective and this book stands alone.
'Before the Dawn' is written in the first person with the action being seen through the eyes of the main protagonist. Despite a faster tempo, the cast still work well together, although I sensed a subtle change in dynamic between Emma and her main foil.
Rose has again done her homework as she paints a gentle picture of domestic life at Melton Manor but there is a definite feel of underlying menace as the plot unfolds and before long, the characters are literally fighting for their lives.
Rose again makes good use of literary techniques with clear descriptive passages, three dimensional characters, a competent plot structure and a pace that gathers momentum as the story develops, dispersed with a little humour along the way. There was a rather drawn out scene towards the end of the novel which I think could have been covered in a paragraph or two, although Rose may have deliberately used this as a device to contrast with the high-powered action of earlier chapters.
The cover design didn't immediately grab my attention but as I got into the novel, it was clear its purpose was to depict an eerie atmosphere of imminent danger and the covert stealth necessary for survival. However, when competing with thousands of other novels, is it eye-catching enough to attract the casual reader?
I believe this book will appeal to those who enjoy straightforward fast-moving action thrillers. Sometimes a sequel can promise much, only to disappoint on delivery but not in this case. Congratulations to Georgia Rose for another engaging novel; she has shown her versatility as an author and has set the bar very high for the final book in the trilogy.
I very much enjoyed Before the Dawn and the small qualifications mentioned above are insufficient to warrant any deductions.
Book reviewed by Julie
Purchase Links

Have a read of our reviews of Georgia's books 'Thicker than Water' and 'A Single Step'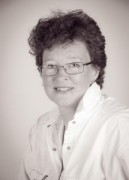 Georgia Rose is a writer and the author of The Grayson Trilogy books: 'A Single Step', 'Before the Dawn' and 'Thicker than Water'.
Georgia's background in countryside living, riding, instructing and working with horses has provided the knowledge needed for some of her storylines; the others are a product of her overactive imagination!
Following a long stint working in the law Georgia set up her own business providing administration services for other companies which she does to this day managing to entwine that work along with her writing.
Her busy life is set in a tranquil part of rural Cambridgeshire where she lives with her much neglected family of a husband, two grown up children and two dogs.
Find out more about Georgia Rose by reading – 'The Writing Life of: Georgia Rose'
Author Links
www.georgiarosebooks.com
@GeorgiaRoseBook
Facebook
Goodreads