The Dead Don't Sleep by Steven Max Russo – Book Review
The Dead Don't Sleep by Steven Max Russo – Book Review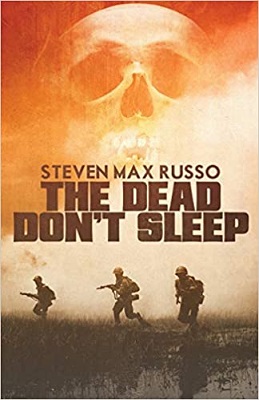 The Dead Don't Sleep
Author – Steven Max Russo
Publisher – Down & Out Books
Pages – 292
Released – 17th November 2019
ISBN-13 – 978-1643960517
Format – ebook, paperback
Review by – Ed
Rating – 3.5 Stars
I received a free copy of this book.
This post contains affiliate links.


Frank Thompson, a recent widower and aging Vietnam veteran is down from Maine visiting his nephew, Bill, and his family in New Jersey.
While at a trap range, he and his nephew have a chance encounter with a strange man who claims to remember Frank from the war.
That night, the windows in Bill's home are shattered along with the quiet peaceful lives the two men had been living.
Three veterans from a special combat unit directed by the CIA during the Vietnam War have gathered to discuss what they are going to do about a man they claim killed one of their own over forty years ago.
Jasper, Birdie and Pogo were part of a team that called themselves the National League All Stars. They were a squad of psychopathic killers trained by Special Forces to cause death and mayhem during the war. Now, they have banded together to hunt down and kill the professional soldier who led them all those years ago.
Drawing on his military training and a resurgent bloodlust from his tortured past, Frank prepares for a final, violent reckoning that will bring him full circle with the war that never left him.

Steven Max Russo's novel, The Dead Don't Sleep, starts with a killer slitting the throat of a Viet Cong message courier in a jungle in Vietnam. The killer then shoots his killer partner in the back because he slits the throat of a six year old Vietnamese girl.
The novel then moves to present day with Bill Thompson and his Uncle Frank on a skeet shooting range in New Jersey where they are confronted as they are leaving by a guy who knew Jack from Vietnam. We find out later that the man's name is Jack Sprague and was also a killer in Vietnam. At four o'clock the next morning the windows are shot out of Bill's house where Uncle Frank is visiting.
The three shooters leave torn baseball cards of players from the 1969 All Stars as a clue to Frank of who was responsible for shooting out the windows. Frank was in Vietnam in 1969. A couple of days later, Frank leaves Bill's family for his home near Boland, Maine where the real action starts.
The action was a little hard to follow but was made clearer by repeating the action from the viewpoints of several participants. I do think the reason for shooting of one of the characters near the end should be better explained. The epilogue perfectly set up a follow up novel.
The plot was excellently crafted. I did notice several typo errors. Bill was the only completely innocent character in the action. I think I figured out who the spook was near the end, but I 'm not sure everyone will. I thoroughly enjoyed the novel. I do highly recommend it.
Book Reviewer – Ed
---
Purchase online from:
---
What did you think of The Dead Don't Sleep? Share your thoughts in the comment section below!
---
The above links are affiliate links. I receive a very small percentage from each item you purchase via these link, which is at no extra cost to you. If you are thinking about purchasing the book, please think about using one of the links. All money received goes back into the blog and helps to keep it running. Thank you.
Like us on Facebook – Tweet us on Twitter – Pin us on Pinterest