What Branches Grow by T.S. Beier – Book Review
What Branches Grow by T.S. Beier – Book Review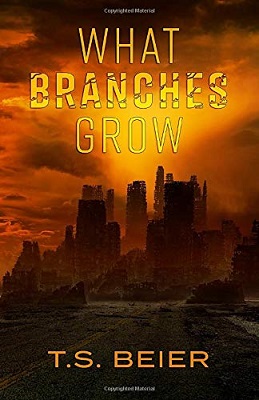 What Branches Grow
Author – T.S. Beier
Publisher – Nostromo Publications
Pages – 428
Release Date – 12th April 2020
ISBN 13 – 978-1777129514
Format – ebook, paperback
Review by – Clive
Rating – 4 Stars
I received a free copy of this book.
This post contains affiliate links.


Thirty-five years ago, the world was ravaged by a third world war, leaving most countries desolate wastelands. Tom Gennero is second-in-command of the struggling town of Churchill and is growing uncomfortable with the increasingly dictatorial methods of his boss, Church. When Church attempts to force Delia, a wasteland survivalist, into the sex trade without her consent, Gennero's tenuous loyalty is severed. When Delia escapes into the wasteland, Gennero is ordered to retrieve her. As he tracks her, Gennero begins to realize he wishes to ally with her on her quest north to find a city rumoured to be untouched by war. If she'll allow his company.
Delia is initially resistant to a companion, but after being forced to work with Gennero, first to save an old man and his dog from a mob, and second to escape said mob themselves, Delia agrees to a tenuous partnership. Neither is willing to trust one another with their past trauma, though the further they travel into the unknown, the more they will have to rely on one another. Together with the eccentric old man, who has his own sorrows, they make their way from one strange town after another. Their route takes them to the epicentre of raider operations, where they are confronted by Greta, an unhinged leader who will stop at nothing to defend her territory.

I understand that this is T.S. Beier's first published novel and that it was written as part of her Creative Writing course. She obviously learned well because her text flows in an extremely easy to read manner, keeping the reader's interest throughout.
The foreword explains that the title What Branches Grow is taken from T.S. Elliot's 1922 poem The Waste Land.
The story follows Delia and Gennero as they travel through the former USA in search of an established northern city that may or may not exist. Both of them were born after the war but they meet various people along the way, including Perth, who remembered life before the war. The recollections of these older people help us to understand what has happened to the world and they do their best to show the youngsters what life as we know it was.
T.S. Beier's vision of a post-apocalyptic world is extreme in that the earth is now scorched and mainly dust. There is no rain as we know it; few trees and only the toughest of wildlife can survive. There is no national government and the remaining humans are living in communities with a variety of organisational style and ethics. A general theme is the level of violence used in most of those settlements. Despite the length of time since the war, it was interesting to see how much they still rely on scavenging for tools and equipment in addition to canned food.
The lead characters of Delia and Gennero are believable. Given their backgrounds and current circumstances, it is understandable that they should be reluctant to become too close. Most readers will have a lot of empathy with Perch in that he is from our own era.
What Branches Grow is very much the story of a journey rather than the destination. I enjoyed the various different people and places they saw along the way but I found the final two chapters a little disappointing. T.S. Beier engineered some action towards the end and they reached their intended destination which gave potential for an interesting sequel setting.
In summary, What Branches Grow is an interesting vision of how life could be like in a post-apocalyptic world, well written and with a smattering of romance.
Book Reviewer – Clive
---
Purchase online from:
---
About the Author

T.S. Beier is a science fiction aficionado. What Branches Grow is her love letter to the post-apocalyptic genre. It was also the focus of her Graduate Certificate in Creative Writing. On top of her grad certificate, Tina has a B.A. in English, a Certificate in Publishing, and a Certificate in Interior Decorating.
Tina has been a people manager, project coordinator, and residential painter. She is currently writing a space opera trilogy and is a freelance writer/editor. Tina lives in Ontario, Canada, with her partner, daughter, and two dogs. She loves ghost towns and the ruins of industry.



---
What did you think of What Branches Grow? Share your thoughts in the comment section below!
---
The above links are affiliate links. I receive a very small percentage from each item you purchase via these link, which is at no extra cost to you. If you are thinking about purchasing the book, please think about using one of the links. All money received goes back into the blog and helps to keep it running. Thank you.
Like us on Facebook – Tweet us on Twitter – Pin us on Pinterest