The Contest by Karen Hamilton – Book Review
The Contest by Karen Hamilton – Book Review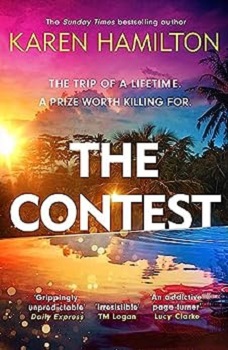 The Contest
Author – Karen Hamilton
Publisher – Wildfire
Release Date – 28th June 2023
Pages – 343
ISBN 13 – 978-1472279439
Format – ebook, paperback, hardcover, audio
Star Rating – 4
I received a free copy of this book.
This post contains affiliate links.

Synopsis
We call it the Great Escape. The annual trip where my boss asks us expert travel guides to escort a group of privileged, uber-wealthy clientele on some far-flung expedition, a cut-throat contest for riches and glory.
The stakes have never been higher, nor the challenge harder: I must summit Mount Kilimanjaro before my rival guide to win the ultimate prize.
But this once-in-a-lifetime trip was never about winning to me. I'm here for answers, even if no one is ready to give them up. By the time we reach the top I will have the truth, if it kills me.
THE QUESTION IS, HOW FAR WILL THEY GO TO KEEP ME QUIET?
The Contest by Karen Hamilton is a raw and edgy thriller set on Mount Kilimanjaro and features two rival travel experts to the rich and famous. It is told from dual points of view, Florence's and Jacob's.
Florence and Jacob both work for Blackmore Vintage Travel. Jacob is the son of the owner Hugo, a man who loves having friends in high places and keeping his pockets lined with plenty of money. Every year the firm runs a 'competition' for their clients and those that win get to go on an exotic trip of a lifetime (in reality the winners are chosen for their value and status).
This year the exotic location is Mount Kilimanjaro. The group is split into two teams headed by Florence and Jacob. The winning team to the summit could see their leader getting a top job at the firm with a huge pay rise. Florence has some other issues alongside her climb and entitled clientele, such as her father, who she doesn't know but is playing mind games and a personal reason for being on the climb. Jacob needs to win to keep his debtors off his back from his gambling addiction.
The contest is set in such an amazing location. It is easy to imagine being there, climbing with the groups, it's also easy to imagine how scary it must be and the brutality of the climb.
I'm not usually a lover of dual POV books but this one worked well. You always knew exactly whose head you were in and there was no muddling up the characters.
The read felt tense throughout, not only from the climbing and from what you will witness in the prologue but from the clientele who would drive me mad. Think rich, entitled people whose needs always need to be met or they have meltdowns.
The Contest is an exciting, gripping thriller, and a quick read. I flew through it in just a few days. I loved the build-up of tension, the twists, and the suspension that kept on coming. The foreboding had me on edge at times knowing that something was about to happen.
---
Purchase Online:
Karen Hamilton

I caught the travel bug after an early childhood spent abroad (Angola, Malawi, Zimbabwe, Belgium and Italy) and have worked as cabin crew for a major airline. In 2006, my husband and I put down roots in Hampshire and four years ago, I gave up flying to raise our three sons and concentrate on my writing. Now that they are a little older, I've begun travelling again (as and when it's possible) and enjoy exploring places through their fresh eyes.
Author Links:
---
The above links are affiliate links. I receive a very small percentage from each item you purchase via these links, which is at no extra cost to you. If you are thinking about purchasing the book, please think about using one of the links. All money received goes back into the blog and helps to keep it running. Thank you.