The Man on Hackpen Hill by J.S. Monroe – Book Review
The Man on Hackpen Hill by J.S. Monroe – Book Review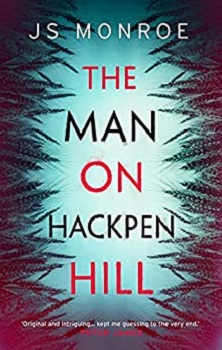 The Man on Hackpen Hill
Author – J.S. Monroe
Publisher – Head of Zeus
Pages – 464
Released – 2nd September 2021
ISBN-13 – 978-1789541717
Format – ebook, paperback, hardcover, audio
Rating – 4 Stars
I received a free copy of this book.
This post contains affiliate links.


Synopsis
In a world full of lies, the search for truth is a deadly game…
It isn't unusual for crop circles to appear overnight on Hackpen Hill. In this part of Wiltshire, where golden wheat fields stretch for miles, the locals have got used to discovering strange mathematical patterns stamped into the earth.
But this time, it's different. Not only because this particular design of dramatic spiralling hexagons has never been seen before. But because of the dead body positioned precisely in the centre of the circle. DI Silas Hart, of Swindon Police, is at a loss.
Only Jim, a scientist at secretive government laboratory Porton Down, knows the chilling truth about the man on Hackpen Hill. And he wants Bella, a trainee journalist on her first ever story, to tell the world. But Silas has other ideas – and a boss intent on a cover up.
As Bella and Jim race against time, dark forces conspire against them, leading them to confront the reality of their own past and a world in which nothing is as it seems.
The Man on Hackpen Hill features all manner of unusual incidents including bodies in crop circles, hidden messages, conspiracy theories, and military human testing.
The opening scene in which a woman believes that she can fly sets up the book nicely for what turns out to be a strange case for the detectives.
The book is told from three points of view – DI Silas Hart, the main detective in the crop circle bodies case, a want-to-be journalist Bella who has just returned home from Oxford University where her best friend has been admitted to a mental hospital, and Jim Matthews who works at Porton Down a government-funded organisation where research into the world's most dangerous pathogens is carried out.
The plot is full-on from the very first page to the last and some scenes were quite intense. This was a book I couldn't rush through as it took some concentration to keep up with what was happening and the mathematical equations and hidden messages.
The characters were easy to get to know and understand. I liked some more than others. Bella's mother certainly fell into the other category as she kept secrets from her daughter and didn't believe in her.
The Man on Hackpen Hill is a very twisty tale. You just about think you understand and know which direction everything is heading and bam, another twist and you are back to square one. The twists and turns do keep you on the edge of your seat though and intrigued.
If you like thrillers that make you think and give your brain a workout then this certainly is the book to pick up.
Purchase Online From:
---
What did you think of 'The Man on Hackpen Hill'? Share your thoughts in the comment section below!
---
The above links are affiliate links. I receive a very small percentage from each item you purchase via these links, which is at no extra cost to you. If you are thinking about purchasing the book, please think about using one of the links. All money received goes back into the blog and helps to keep it running. Thank you.
Like us on Facebook – Tweet us on Twitter – Pin us on Pinterest – Join us on Instagram