I Dare You by Sam Carrington – Book Review
I Dare You by Sam Carrington – Book Review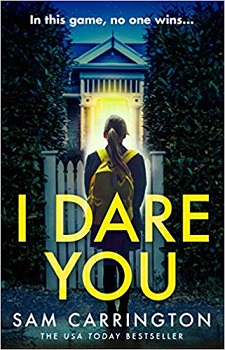 I Dare You
Author – Sam Carrington
Publisher – Avon
Pages – 416
Released – 12th December 2019
ISBN-13 – 978-0008331375
Format – ebook, paperback, audio
Review by – Stacey
Rating – 5 Stars
I received a free copy of this book.
This post contains affiliate links.
AN INNOCENT GAME. A SHOCKING CRIME. A COMMUNITY FULL OF SECRETS.
Mapledon, 1989
Two little girls were out playing a game of dares. Only one returned home.
The ten-year-old told police what she saw: village loner Bill 'Creepy' Cawley dragged her friend into his truck and disappeared. No body was found, but her testimony sent Cawley to prison for murder. An open and shut case, the right man behind bars. The village could sleep safe once again.
Now…
Anna thought she had left Mapledon and her nightmares behind but a distraught phone call brings her back to face her past. 30 years ago, someone lied. 30 years ago, the man convicted wasn't the only guilty party. Now he's out of prison and looking for revenge. The question is, who will he start with?
1989 – Ten-year-old's Jonie and Bella enjoyed playing the game 'Knock, Knock, Ginger' (we called it knock-a-door-run). The girls dare each other to knock on the doors of the residents of Mapledon. One house neither of the girls wanted to knock on was Billy 'Creepy' Cawley's bungalow, however, if you have been dared to do it, you must!
July 1989, Jonie Hayes went missing. Despite no physical evidence and no body ever being found, Billy 'Creepy' Cawley was convicted of her murder and sentenced to thirty years in prison after her friend testified that she had seen Jonie getting into Billy's pick-up truck.
July 2019 – Billy has just been released from prison and he's looking for revenge. Anna (Bella) hasn't been back to Mapledon in over twenty-years but when her mother calls distressed that someone has nailed a dolls head to her front door, Anna returns to the place she swore she would never step foot in again.
Freelance Journalist Lizzie heads to Mapledon to cover the story of Billy's release, but she may be there under false pretences.
What started as an innocent game thirty-years-ago has everyone on tenterhooks waiting for what will happen next.
I Dare You is a psychological thriller that truly plays with your mind. The book is told in the third person and from the points of view of Anna, Lizzie, and the events in 1989. The book is filled with twists and turns and a few red-herrings too.
The chapters are short which seems to heighten the tension and kept me on edge. I especially loved the chapters set in 1989 as they helped to bring the story together. I also found myself trying to figure out what Lizzie's connection to Mapledon and the murder case was.
This is the first book I have read by Sam Carrington and I can tell you that the writing is superb. The way that she describes a scene has you perfectly able to visualise what is happening and she painted the village of Mapledon as this weird, strange town where secrets were behind every door.
The conclusion was satisfying and I was left feeling that all my questions had been answered. It might not have been a big climactic ending but it fitted the story perfectly.
This is a book that kept me hooked to the pages and rushing through it, so much so that I finished it in two days. I wanted to find out the truth and I wanted to find out who Billy was going to start his revenge with.
Book Reviewer – Stacey
---
Purchase online from:
---
About the Author

Sam Carrington lives in Devon with her husband, two border terriers and a cat. She has three adult children and a new grandson! She worked for the NHS for fifteen years, during which time she qualified as a nurse. Following the completion of a psychology degree she went to work for the prison service as an Offending Behaviour Programme Facilitator. Her experiences within this field inspired her writing.
She left the service to spend time with her family and to follow her dream of being a novelist. SAVING SOPHIE, her debut psychological thriller, published in September 2016. It became a Kindle eBook bestseller, with the paperback hitting The Bookseller Heatseeker chart at #8. Sam was named an Amazon Rising Star of 2016.
Her second psychological thriller, BAD SISTER, published in 2017 followed by ONE LITTLE LIE in July 2018. THE MISSING WIFE publishes in June 2019 with her fifth, I Dare You published on 12th December.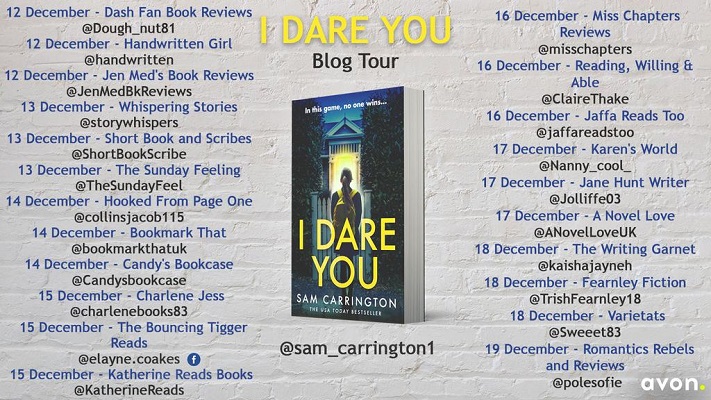 ---
What did you think of I Dare You? Share your thoughts in the comment section below!
---
The above links are affiliate links. I receive a very small percentage from each item you purchase via these link, which is at no extra cost to you. If you are thinking about purchasing the book, please think about using one of the links. All money received goes back into the blog and helps to keep it running. Thank you.
Like us on Facebook – Tweet us on Twitter – Pin us on Pinterest