Near Death by Richard Wall – Book Review
Near Death by Richard Wall – Book Review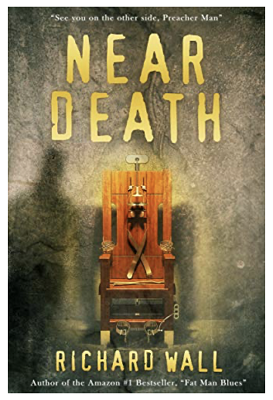 Near Death
Author – Richard Wall
Publisher – Burning Chair Publishing
Pages – 358
Release Date – 26th October 2020
ISBN 13 – 978-1912946129
Format – ebook, paperback
Rating – 4 Stars
I received a free copy of this book.
This post contains affiliate links.


Synopsis
"See you on the other side, Preacher Man."
These are the last words of Joseph Hickey, a psychopath executed at Sing Sing prison for the murder of the Howell family in New York State.
After giving the last rites and watching Hickey die, troubled prison chaplain John Henry Beauregard quits his job to start a new life in the Appalachian Mountains.
Hickey's death should have been the end of the nightmare, but then another family is murdered in identical circumstances, and John Henry is called back to New York to give the last rites to the killer.
As the killings continue, John Henry is drawn into a mystery with devastating consequences.
Is it possible to commit murder from beyond the grave?
Can John Henry stop the endless cycle of torment and solve the mystery before it is too late?
This is a gritty and atmospheric story, following the journey of a priest struggling with his faith and an unredeemable killer who has the ability to return from the dead and continue killing.
John Henry Beauregard is a priest who served in Korea and still carries the mental scars of the scenes he witnessed there. Having to deal with a particularly malevolent murderer on death row picks at those particular scabs and after witnessing the execution of Joseph Hickey, he decides that he needs to make some changes in his life.
Of course, nothing's that simple and as soon as he's started to get his life on course, he's called back to duty when another murder takes place and the killer asks for him by name. After that, it's an investigation as to how this could be possible and how to stop a killer who won't stay dead.
Set in the 1960s, this book also includes some insight into the racial relations at the time within New York and the Southern states which are not pretty. This snapshot of history, alongside the lasting trauma of the wars at the time, helps build the story into something you can really get your teeth into. It's not just Hickey that's inflicting evil on the world.
I really enjoyed the characters in this book, though the clichés are pretty heavy on the ground, but Vinnie the lawyer is my absolute favourite. A lawyer with an absolutely foul mouth and no respect for authority, who relies on his skills to get what he wants rather than other people treating him fairly, he's just brilliant.
I did have some issues with the multiple POV chapters, I did find it confusing at times to work out what was going on as facts were being deliberately withheld until later in the story which I find frustrating, but everything did become clear at the end.
This book is pretty graphic when it comes to scenes of brutal murder and execution, right down to the boiling eyeballs. Personally, I'm all for that but it's worth going in prepared!
The story follows a reasonably predictable path but the characters and the step back in time is what makes it stand apart from similar stories – well worth a read.
Purchase Online From:
---
What did you think of 'Near Death'? Share your thoughts in the comment section below!
---
The above links are affiliate links. I receive a very small percentage from each item you purchase via these link, which is at no extra cost to you. If you are thinking about purchasing the book, please think about using one of the links. All money received goes back into the blog and helps to keep it running. Thank you.
Like us on Facebook – Tweet us on Twitter – Pin us on Pinterest – Join us on Instagram