The Windsor Knot by S.J. Bennett – Book Review
The Windsor Knot by S.J. Bennett – Book Review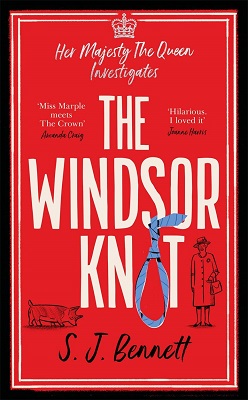 The Windsor Knot
Her Majesty the Queen Investigates Book One
Author – S.J. Bennett
Publisher – Zaffre
Pages – 320
Released – 29th October 2020
ISBN-13 – 978-1838773168
Format – ebook, paperback, hardcover, audio
Review by – Stacey
Rating – 5 Stars
I received a free copy of this book.
This post contains affiliate links.


The morning after a dinner party at Windsor Castle, eighty-nine-year-old Queen Elizabeth is shocked to discover that one of her guests has been found murdered in his room, with a rope around his neck.
When the police begin to suspect her loyal servants, Her Majesty knows they are looking in the wrong place.
For the Queen has been living an extraordinary double life ever since her coronation. Away from the public eye, she has a brilliant knack for solving crimes.
With her household's happiness on the line, her secret must not get out. Can the Queen and her trusted secretary Rozie catch the killer, without getting caught themselves?

2016, the year of her ninetieth birthday, Queen Elizabeth II is hosting a dine and sleep at Windsor Castle. Amongst the celebrity guests including David Attenborough, is a Russian pianist, Maksim Brodsky. The pianist is quite the ladies' man and very flirtatious. Even the Queen herself has a dance with him.
In the morning Maksim is found dead in his room with a rope around his neck. Suicide or sex game gone wrong is the initial thoughts of the police but later it is declared that Maksim was murdered.
MI5 and the Metropolitan Police who are investigating believe that one of the Queens members of staff have ties to Russia and have killed Maksim on the orders of Russian President Vladimir Putin. The Queen, however, doesn't believe they are looking in the right direction, she would know as she has been investigating situations like this since she was a young girl with the help of her Private Secretary, new girl Rozie. The two begin their own private investigations into who killed Maksim and why.
What a glorious book 'The Windsor Knot' is. From the very first page to the last I was hooked. It is not only filled with a mystery waiting to be solved but the characters, including members of the Royal, the Queen's staff, her pets, and even political figures such as Obama make an appearance and add to the atmospheric feel of the book.
The idea that Queen Elizabeth II is a super sleuth and loves a good puzzle of the criminal kind is quite out there and yet it works perfectly. MI5 and the police seem to think that the Queen is just an elderly woman who doesn't know much, but they are very mistaken. The Queen sees and hears most things and knows far more than she ever lets on.
For a murder-mystery, the book is quite humorous and did give me a good giggle in places, who would have thought the Queen had a sense of humour? Though Prince Philip was on form with his quips too. The writing style made it perfectly easy to visualise the Queen investigating in that it is quite formal. It also reads a little like a diary of her life as she still had to attend Royal engagements, meet people, talked about her family and horses, etc.
The Windsor Knot is imaginative, richly researched, and oh so British. I simply adored it. It is a little light relief in a trying time. It has a feel of Murder She Wrote to it if Jessica Fletcher stayed at home investigating whilst she got her assistant to run around doing the outside work for her. I'm now looking forward to the other books in the series.
Book Reviewer – Stacey
---
Purchase online from:
---
About the Author

S.J. Bennett was born in Yorkshire, England in 1966, and lives in London. An army child, she grew up travelling around the world. Her first novel was published when she was 42, after a varied career and lots of procrastination. She is the award-winning author of several books for children and teaches and podcasts about writing.




---
What did you think of The Windsor Knot? Share your thoughts in the comment section below!
---
The above links are affiliate links. I receive a very small percentage from each item you purchase via these link, which is at no extra cost to you. If you are thinking about purchasing the book, please think about using one of the links. All money received goes back into the blog and helps to keep it running. Thank you.
Like us on Facebook – Tweet us on Twitter – Pin us on Pinterest