Zombierella by Joseph Coelho – Book Review
Zombierella by Joseph Coelho – Book Review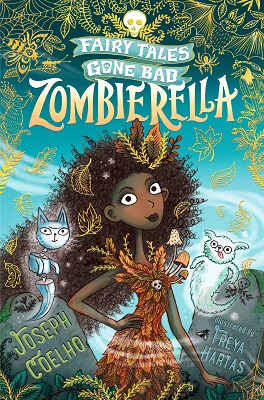 Zombierella
Fairy Tales Gone Bad
Author – Joseph Coelho
Illustrator – Freya Hartas
Publisher – Walker Books
Pages – 192
Released – 3rd September 2020
ISBN-13 – 978-1406389661
Format – ebook, paperback, audio
Review by – Stacey
Rating – 5 Stars
I received a free copy of this book.
This post contains affiliate links.


A yellow moon hangs in a satin sky the night Cinderella, barefoot and in hand-me-downs, slips at the top of the stairs … and dies. But not for long. The Shadow of Death arrives to breathe life back into her bones and, for three nights only, Cinderella goes forth as ZOMBIERELLA. With her skin as cold as ice and her faithful horse Lumpkin back by her side, can she seek revenge on her three cruel, fake sisters, once and for all?
Crawl out of the grave and step into your mushroom carriage for this haunting and humorous adventure of the undead girl searching for her happily ever after.

Cinderella falls down the stairs one night and is killed whilst her 'fake' mother and step-sisters are at the mansion where a three-night ball is being held so that the new owner, the Prince, can find himself a bride.
Death shows up and turns Cinderella into a Zombie and tells her for three nights she can go and dance with the Prince and be happy. Bringing back to life Cinderella's beloved pets that have died over the years to be her horse and footmen, they set off to the mansion in a mushroom that has become her coach and a dress made of leaves.
The Prince is smitten with Cinderella but every night at midnight she runs away. On the third night she leaves a part of her on the steps, but will the Prince ever find the woman he has fallen in love with?
The opening words of Zombierella tells you everything you need to know. 'This gory story has bugs and bogeys, slimy surprises, and more than a spot of revenge. And, yes…I'm afraid dear sweet readers, that there is DEATH.' If you have a child who isn't into dark books featuring a Zombie, Vampire, dead animals, and Death then you might not want to let them read this book. However, if they love a bit of gore then this is the perfect book.
I was unsure what I was going to make of the book as it opens with one of Cinderella's pets who was old and infirm dying and her having to bury it. But then the book came alive. It was an exceptional read. Very funny and cleverly written keeping all the main parts of the original Cinderella and making them grim, put it this way it's not her shoe that Cinderella leaves on the stairs for the Prince to find!!
The book is filled with amazing black and white artwork which complements the writing perfectly. As well as an amazing re-telling there are wonderful messages throughout the book about being kind and forgiveness too.
I'm not usually a fan of fairy-tale retellings but this story is so witty, humorous, and creepy that I adored it. The perfect read for Halloween. I am now looking forward to seeing which other fairy-tales author Joseph Coelho turns bad.
Book Reviewer – Stacey
---
Purchase online from:
---
About the Author

Joseph Coelho is an award-winning children's author, performance poet and playwright based in London. His debut poetry collection, Werewolf Club Rules, was the 2015 winner of the CLPE CLiPPA Poetry Award. His second book, Overheard in a Tower Block, was shortlisted for the 2018 CLPE CLiPPA Poetry Award and is longlisted for the 2019 UKLA Book Awards. Joseph features in the BBC Teach 'Understanding Poetry' online series.
His work has poetry and performance at its heart, drawing on over 16 years' experience running dynamic creative literacy sessions in schools. He aims to inspire young people through stories and characters they can recognise.




---
What did you think of Zombierella? Share your thoughts in the comment section below!
---
The above links are affiliate links. I receive a very small percentage from each item you purchase via these link, which is at no extra cost to you. If you are thinking about purchasing the book, please think about using one of the links. All money received goes back into the blog and helps to keep it running. Thank you.
Like us on Facebook – Tweet us on Twitter – Pin us on Pinterest