Ebb and Flo and the Sea Monster by Jane Simmons – Book Review
Ebb and Flo and the Sea Monster by Jane Simmons – Book Review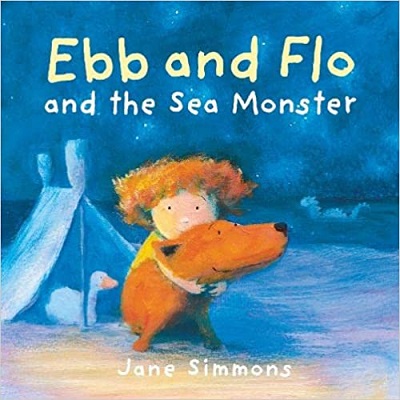 Ebb and Flo and the Sea Monster
Author – Jane Simmons
Publisher – Graffeg Limited
Release Date – 26th May 2022
Pages – 36
ISBN 13 – 978-1802580730
Format – ebook, paperback, hardcover
Star Rating – 4
I received a free copy of this book.
This post contains affiliate links.

Synopsis
A journey home from Granny's house turns into a big adventure when Ebb and Flo have to camp out for the night. They think they've found a sea monster – but sea monsters don't really exist … do they?
Ebb and Flo and the Sea Monster is the latest book in the Ebb and Flo series by author Jane Simmons. Ebb the dog and Flo a little girl have just been visiting Flo's Grannie who tells them a story about a mysterious sea monster (like Nessie). When it is time to go home, via a little boat across the water the pair look out for the monster.
Unfortunately, the tide is going out quickly and they become stranded but can make it to a little island where they settle down for the night until they see a large shadow that is getting bigger, could it be the sea monster?
The Ebb and Flo books have been around for quite a while and have been re-released by Graffeg for the next generation of readers. I love these books, nearly as much as I loved Jane Simmons' 'Daisy Duck' books that I read to my children. They have an old-fashioned quality to them, whilst proving an adorable story, and contain a wonderful friendship between a little girl and her dog.
This would make the most perfect bedtime story – It might have 'sea monster' in the title but there is nothing scary within, what you do get is an adorable tale that I can see being asked for over and over again.
---
Purchase Online:
Jane Simmons
Jane Simmons is a children's author and illustrator and the person behind the Ebb and Flo picture-book series. Jane studied illustration at Anglia Ruskin University and won the Macmillan Children's Book Prize in her final 2 years of study. Ebb and Flo picture books were also made into a TV series which aired in 2005 on Channel 5 and featured the narration of Fiona Shaw.
Author Links:
---
The above links are affiliate links. I receive a very small percentage from each item you purchase via these links, which is at no extra cost to you. If you are thinking about purchasing the book, please think about using one of the links. All money received goes back into the blog and helps to keep it running. Thank you.