No, Nancy, No!: A Seaside Adventure by Alice Tait – Book Review
No, Nancy, No!: A Seaside Adventure by Alice Tait – Book Review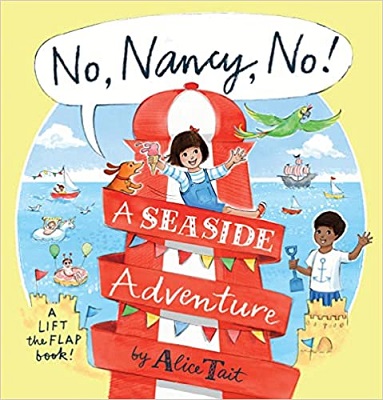 No, Nancy, No!: A Seaside Adventure
Author – Alice Tait
Publisher – Walker Books
Release Date – 5th May 2022
Pages – 24
ISBN 13 – 978-1406394382
Format – Hardcover
Star Rating – 5
I received a free copy of this book.
This post contains affiliate links.

Synopsis
Nancy and her sausage dog Roger return for a summery – and mischievous! – day at the beach.
Nancy is visiting her cousin Jack at the seaside, when his cheeky pet parrot flies away. "After that parrot!" cries Nancy, and sets off in hot pursuit, racing across the bustling beach, the colourful funfair and even the foaming sea. But … uh-oh! There's lots of mischief to be had beside the sea … and Nancy is VERY mischievous! With plenty of flaps to open, a fold-out map, and an exciting pop-up pirate ship, this is an interactive read-aloud for all the family.
No, Nancy, No!: A Seaside Adventure is the second book in the No, Nancy, No! lift-the-flaps series, the first being set in London. This time we are at the seaside with Nancy, her dog Roger, and their cousin Jack who was brought his parrot Pip.
When Nancy and Roger meet Jack he doesn't have Pip with him, he explains that Pip has flown away so Nancy decides they need to catch him. Get set for a beach adventure following parrot Pip and Nancy who gets up to lots of mischiefs.
I loved this book. It is full of fun and joy and with the lift-the-flaps sections children get to uncover the naughty, yet amusing, things Nancy does whilst searching for Pip.
The story is well illustrated and brings together everything you can see at the seaside, including the beach, sea, doughnuts, candyfloss, Punch and Judy show, donkeys, and a funfair.
I can see children giggling away at the antics that happen throughout, but will the children, and Roger the dog be able to catch Pip, and what is within the mysterious envelope at the end? Give the book a read and find out for yourselves.
---
Purchase Online:
Alice Tait
Alice Tait is a prolific illustrator who produces bespoke artwork for clients worldwide. Alice has worked for Vogue, The Times, and Waitrose amongst others. Alice's drawings may well be found somewhere in your home already as she has illustrated for Jamie Oliver, Nigel Slater, Adrian Mole and many other well-loved book titles and magazines.
Author Links:
---
The above links are affiliate links. I receive a very small percentage from each item you purchase via these links, which is at no extra cost to you. If you are thinking about purchasing the book, please think about using one of the links. All money received goes back into the blog and helps to keep it running. Thank you.