Sun Damage by Sabine Durrant – Book Review
Sun Damage by Sabine Durrant – Book Review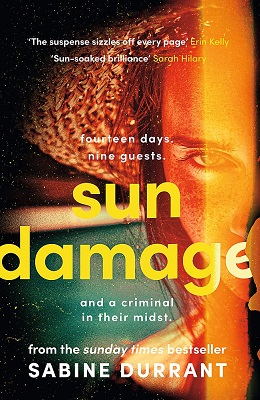 Sun Damage
Author – Sabine Durrant
Publisher – Hodder & Stoughton
Release Date – 2nd June 2022
Pages – 400
ISBN 13 – 978-1473681699
Format – ebook, paperback, hardcover, audio
Star Rating – 4
I received a free copy of this book.
This post contains affiliate links.

Synopsis
The heat is intense.
The secrets are stifling.
She just needs to escape . . .
Nine guests arrive at a remote villa in the south of France.
They know each other well. Or think they do.
But at least one of them has plenty to hide – and nowhere to run.
Under the relentless sun, loyalties will be tested, secrets revealed, and tensions pushed to the point of no return.
Sun Damage is quite a hard book to explain without giving away any spoilers. What I can say is that we meet a couple of con artists at the beginning who thrive on travelling the world, conning people out of money. When in France one of their cons goes wrong and one of them flees, taking on the identity of another person, yet always knowing the other will at some point come after them.
The person who flees assumes the role of a live-in chef for a family who is staying at a remote villa in the south of France. But with family and friends coming to stay too, can their identity be kept hidden, especially when one of the guests seems to know them, and will their accomplice find them?
What I loved about Sun Damage is the setting. What a perfect place to set a book as the south of France is a glorious place to stay. The sights, sounds, smells, food, etc all came across perfectly and the dishes that the family eats with have you feeling very hungry.
Whilst the build-up was slow, and the beginning, in my opinion, far too long (I did at one point wonder if the synopsis was right), the tension was ever-present. I felt the pain that our main protagonist felt for their old life, and their con victim, plus how they just wanted to get away and thought that taking on another's identity was a perfect idea. You are left pondering if their ex-accomplice will show up and when, so every chapter has you wondering if this is the one.
Overall, a decent summery thriller that is set in a fab location and keeps you guessing throughout. Suspenseful, thrilling, and twisty.
Purchase Online:
Sabine Durrant
Sabine Durrant is the author of three psychological thrillers, Under Your Skin, Remember Me This Way and Lie With Me, a Richard & Judy Bookclub selection and Sunday Times paperback bestseller. Her previous novels are Having It and Eating It and The Great Indoors, and two books for teenage girls, Cross Your Heart, Connie Pickles and Ooh La La! Connie Pickles.
She is a former features editor of the Guardian and a former literary editor at the Sunday Times, and her writing has appeared in many national newspapers and magazines. She lives in south London with her partner and their three children.
Author Links:
---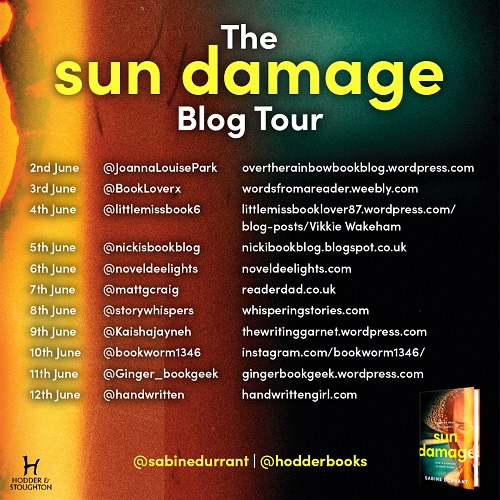 ---
The above links are affiliate links. I receive a very small percentage from each item you purchase via these links, which is at no extra cost to you. If you are thinking about purchasing the book, please think about using one of the links. All money received goes back into the blog and helps to keep it running. Thank you.