Pirate McSnottbeard in the Alien Slug Invasion Panic by Paul Whitfield – Book Review
Pirate McSnottbeard in the Alien Slug Invasion Panic by Paul Whitfield – Book Review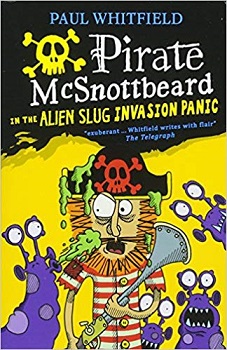 Pirate McSnottbeard in the Alien Slug Invasion Panic
Author – Paul Whitfield
Publisher – Walker Books
Pages – 288
Released – 3rd May 2018
ISBN-13 – 978-1406373097
Format – ebook, paperback, audio
Review by – Stacey
Rating – 5 Stars
I received a free copy of this book.
This post contains affiliate links.


The terrible Pirate McSnottbeard is BACK – and this time he's brought alien slug monsters.
Forced to rescue their parents once more, Emilie and her brother Will blast off for an adventure in space. Faced with dragons, robots, vegetables and a battle inside a computer game, still nothing can prepare them for the most dreadful thing of all: Pirate McSnottbeard's singing…
The second book in Paul Whitfield's Pirate McSnottbeard series, fully illustrated and packed with laugh-out-loud jokes.

Before I begin this review I would like to state that I haven't read the first book and know nothing about what happened in it or who Pirate McSnottbeard is. However, this didn't stop me from enjoying this story.
I love comedy, laugh-out-loud humorous movies, books, etc. Anything that makes me giggle is a winner, I also love weird things and things that are completely strange or bonkers and this book ticks all these boxes.
Nine-year-old Emilie wakes in the middle of the night, due to her cat Eiffel licking her face. As she steps out of bed she ends up slipping on the floor which is covered in slime. She tries to wake her parents but fails so she goes to find her older brother Will.
Once in Will's room, Eiffel the cat types them a note on Will's computer telling them that Alien Slug Monsters have stolen their parents and for them to wear socks and take salt with them. The siblings are baffled, they also need to rescue their parents, but with a stick and slimy floor and aliens abducting their parents there can only be one person behind this mayhem – Pirate McSnottbeard.
Can they be brave enough to face the aliens and rescue their parents?
As you can tell by what I have just told you about the book, it is quite honestly wacky, daft and stupid but by Joe, it is a whole lot of fun.
The chapters are very short and all have brilliant titles. There are also lots of fabulous illustrations throughout that will have you giggle-snorting.
If you have a child that loves funny books or even a reluctant reader that loves comedy then this is the book to choose. I particularly like the beginning where the narrator tells you to stop reading, plus they also tell you that there is a lie in the book and you have to find it, which makes you second guess everything that happens.
Book Reviewer – Stacey
---
Purchase online from:
---
About the Author

Paul Whitfield has lived a semi-nomadic life that began in Australia, before landing him in London in the mid-90s and then France, where he currently splits his time between the Eurostar and a village on the banks of the Seine just outside of Paris.
He has, mostly by accident, been a business journalist since 1997 and has written for Bloomberg, the BBC, the New York Times, a handful of British national newspapers and more recently U.S. news outlets The Deal and The Street.
His cartoons have appeared in U.K. magazines and he has exhibited paintings in galleries and bars in London and Paris.
Pirate McSnottbeard in the Zombie Terror Rampage was published Walker in July 2017 and will be followed in May 2018 by Pirate McSnottbeard in the Alien Slug Invasion Panic.
Paul is married with two children and a vegetable patch.


---
What did you think of Pirate McSnottbeard in the Alien Slug Invasion Panic? Share your thoughts in the comment section below!
---
The above links are affiliate links. I receive a very small percentage from each item you purchase via these link, which is at no extra cost to you. If you are thinking about purchasing the book, please think about using one of the links. All money received goes back into the blog and helps to keep it running. Thank you.