Teensy The Littlest Fairy by Claressa Swensen – Book Review
Teensy The Littlest Fairy by Claressa Swensen – Book Review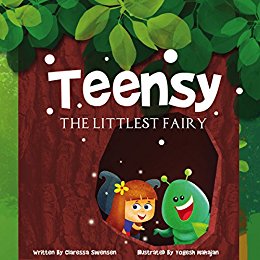 Teensy The Littlest Fairy
Author – Claressa Swensen
Pages – 48
Released – 29th February 2016
ISBN-13 – 978-0997222630
Format – ebook, paperback, hardcover
Reviewer – Jodie
I received a free copy of this book
Post Contains Affiliate Links
Teensy doesn't like being the smallest fairy in the forest, because none of the other fairies notice her. What do you think could make her bigger? Come fly around Teensy and her friends to discover what makes a fairy grow!
Review
This is a lovely short story about a fairy named Teensy. She is very small but wants to be bigger like the other fairies in Shimmery Forest. She also feels invisible because the bigger fairies keep bumping into her. Can her wish come true?
Teensy meets Carry the Caterpillar and tells her why she's upset. Carry suggests that she eats some yummy vegetables to help her grow. Like a lot of children Teensy thinks vegetables taste disgusting. Carry informs her that there are sweet, salty, and crunchy vegetables. She suggests that Teensy should pick the ones she likes and they will help her to grow. Carry tells her that she will soon grow into a beautiful big butterfly because she eats lots of vegetables.
Teensy finds the nearest vegetable patch and eats some cabbage. She discovers that cabbage tastes sweet. From then on, Teensy eats more vegetables and she soon begins to grow. The other fairies don't bump into her any more and she becomes the happiest fairy in the forest.
I thought this was an enchanting and appealing story. The first page shows the fairies about to do their chores before they're allowed to play. It's a good message and I'm sure parents reading it to their children will smile at this! The story also promotes healthy eating. It demonstrates to children that vegetables don't always taste horrid. They can taste delicious and help you to grow.
The illustrations are bright and fun. The language is simple for young children to understand. Although aimed at girls, the story can apply to boys too.
This is a fun and influential book. My three year old enjoyed the story and she understood the message of eating good things to help you to grow. She also liked the vibrant illustrations and pointed out what was happening on the pages. This is a book that children will enjoy again and again.
Reviewed by Jodie

---