Breaker by Annemarie Allan – Book Review
Breaker by Annemarie Allan – Book Review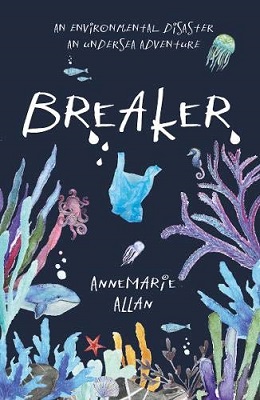 Breaker
Author – Annemarie Allan
Publisher – Pokey Hat
Pages – 256
Released – 16th April 2020
ISBN-13 – 978-1911279730
Format – paperback
Review by – Stacey
Rating – 4 Stars
I received a free copy of this book.
This post contains affiliate links.


Tom and Beth are not happy when they move to North Berwick and find themselves facing a rainy, windswept beach, a house that's falling to pieces and a school full of strangers.
When they meet Professor Macblain, with his weird and wonderful inventions, little do they know that he has a secret: not only is he a thief, but he has stolen the one thing that can save the Firth of Forth from environmental catastrophe. A madcap adventure unfolds in this funny and fast-paced tale of disasters waiting to happen.

Tom and Beth have recently moved to Scotland to the seaside town North Berwick. They are not very happy about the move given that they are currently having to share a bedroom as Beth's bedroom needs new windows. They have no hot water and now the electricity has gone too.
One rainy afternoon whilst walking their dog Toby they try to find a place to shelter and notice that there is a group meeting at the local Jubilee Hall called POP (People Opposing Pollution). They enter the hall but end up taking a wrong turn and meet Professor Angus MacBlain. The children join in with some of his fun experiments. When they leave they notice a commotion by the sea wall and head to see what is happening.
A tanker carrying oil has lost control and ended up on rocks. Luckily the hole the rocks have punctured into the tanker has been covered by the rock so hardly any oil is escaping, however, there will have to be a massive operation to remove the oil before the tanker can be moved.
The professor is acting strangely and has gone into hiding whilst a woman in a red-bobbled hat is looking for him as well as two men in suits. The children are surprised when he comes to them telling them he needs their help and leads them to an underground tunnel near the sea.
Breaker is an adventure-filled story featuring twins Tom and Beth who find themselves in situations they never thought possible with a professor they think is slightly mad – Think Doc Brown from Back to the Future, eccentric.
The book takes a little while to get going, roughly halfway through before anything major in the adventure begins, the first part is about getting to know the children, the town, the professor, and POP.
Once the action kicks in the story comes alive and as well as being engaging there are some educational aspects too. I love that book is completely up to date with the family taking to Twitter for updates on the Tanker.
Overall, this is a lovely book about helping to save the environment told in a fun, action-packed way and with characters children will be able to relate to.
Book Reviewer – Stacey
---
Purchase online from:
---
About the Author
Annemarie Allan's first published novel, Hox, won the 2007 Kelpies Prize and was shortlisted for both the Scottish Children's Book of the Year and the Heart of Hawick book awards. Her third novel, Ushig, a fantasy based on Scottish myths and legends, was shortlisted for the 2011 Essex Children's Book Award.
She writes for both adults and children and her novels and short stories range from fantasy and science fiction to historical and contemporary fiction, taking their inspiration from the landscape and culture of Scotland, both past and present. Annemarie lives in Prestonpans, near Edinburgh.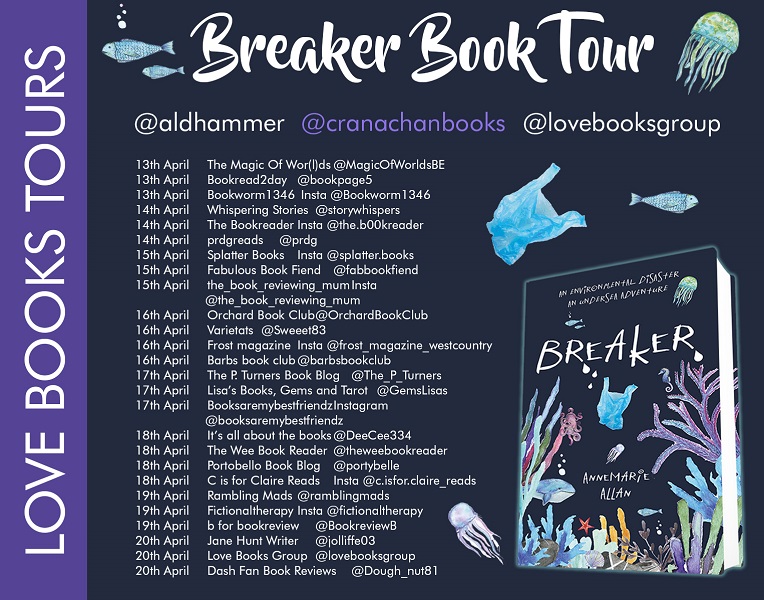 ---
What did you think of Breaker? Share your thoughts in the comment section below!
---
The above links are affiliate links. I receive a very small percentage from each item you purchase via these link, which is at no extra cost to you. If you are thinking about purchasing the book, please think about using one of the links. All money received goes back into the blog and helps to keep it running. Thank you.
Like us on Facebook – Tweet us on Twitter – Pin us on Pinterest