A Day At The Zoo by Cassie Roberts – Book Review
A Day At The Zoo by Cassie Roberts – Book Review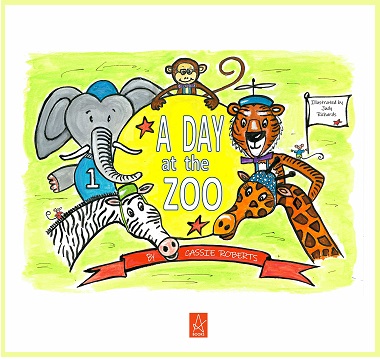 A Day At The Zoo
Author – Cassie Roberts
Publisher – Adelaide Books
Pages – 22
Released – 1st September 2019
ISBN-13 – 978-1950437993
Format – ebook, paperback
Review by – Stacey
Rating – 3 Stars
I received a free copy of this book.
This post contains affiliate links.


A DAY AT THE ZOO is a vivid and whimsical story about two children and their adventures at the zoo. Enjoy playful rhymes and the strong message of never giving up and always being brave. A wonderful read for children and adults alike.

William and Rose are having a day out at the zoo. Whilst there they see numerous animals who all ask them to try new activities but the children decline as they are too scared.
This is one of those books that I am in two minds about. I enjoyed it because it was fun, made me laugh, rhymed, and the illustrations were rather sweet. I can see little children giggling along with the story.
However, as a parent, I was a little unsure about it. The children William and Rose are quite young, I would say younger than ten but they travel to the zoo alone. When they enter they encounter five different animals who all speak to the children and try to get them to join in with their tricks such as climbing a tree, riding a bike, skating, etc.
My initial reaction was why were the animals talking to them and why were they behaving as if they are in a circus and made to do tricks and encouraging the children to get close to animals that could be ferocious?
The book is very short and if you are looking for something entertaining, a bit of light relief reading for a child, then this would work. If you are after something a little more realistic and possibly educational then I would look somewhere else.
Book Reviewer – Stacey
---
Purchase online from:
---
What did you think of A Day At The Zoo? Share your thoughts in the comment section below!
---
The above links are affiliate links. I receive a very small percentage from each item you purchase via these link, which is at no extra cost to you. If you are thinking about purchasing the book, please think about using one of the links. All money received goes back into the blog and helps to keep it running. Thank you.
Like us on Facebook – Tweet us on Twitter – Pin us on Pinterest