Julius Zebra #2 by Gary Northfield – Book Review
Julius Zebra #2 by Gary Northfield – Book Review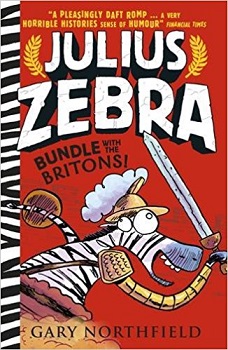 Julius Zebra


Bundle with the Britons!
Author – Gary Northfield
Publisher – Walker Books
Pages – 288
Release Date – 4th May 2017
ISBN-13 – 978-1406373721
Format – ebook, paperback, hardcover, audio
Reviewer – Stacey
I received a free copy of this book
Post Contains Affiliate Links

From the celebrated creator of Julius Zebra: Rumble with the Romans! comes a hilarious romp and mad-cap story set in Roman Britain, cram-packed with jokes and bursting with action.
Julius and his pals must go to the far-off and strange land of Britain to win over the crowds of Hadrian's empire. But this will be no happy-go-lucky holiday. Instead of packing buckets and spades, our stripy hero and his friends will need all their wits about them if they're going to survive their most wild and rebellious gladiatorial opponents yet – the Britons!
With a guide to Roman numerals and a fun, factual glossary in the back pages, this is a fast-paced, funny and utterly bonkers introduction to all things Roman Britain.

Gladiator superstar, Julius Zebra, was the most famous and fearsome warrior in Rome, after defeating numerous opponents.
His battles hadn't gone unnoticed by Emperor Hadrian, who offered him a deal, battle and win one more fight, and he would grant Julius his freedom. However, after winning the battle, Hadrian was nowhere to be seen.
News soon arrived that Hadrian was impressed with Julius, and as a result, he was sending him, and his friends, on a little trip to Britannia.
Unfortunately, their idea of a little 'holibob' was cut short when they realised exactly what Emperor Hadrian had in store for them.
Julius Zebra Bundle with the Britains!, is the second book in the 'Julius Zebra' series, but can most certainly be read as a stand alone.
Gary Northfield has managed to write a children's book that blends history with a damn good story. The characters are well developed, and at times you do forget that they are actually a Zebra, Warthog, Crocodile, Antelope, lion, etc.
The book is funny, laugh out loud funny, from beginning to end. It is silly, wacky and a little bit daft, but it is also engrossing, and will have children hooked right from the start. It certainly is attention grabbing.
There are numerous black and white illustrations throughout, some are full pages too, these add to the enjoyment of the story, and help to visualise exactly what is happening.
Julius Zebra: Bundle with the Britons! is one of the funniest, cleverest executed books that I have read for a long time, (and I'm just a few years over the target market!!).
Book reviewed by Stacey
Purchase Links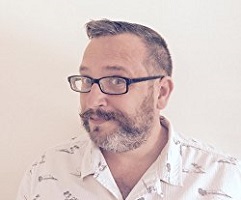 Hailing from Essex, I graduated from Harrow College (University of Westminster) with a degree in Illustration in 1992. After discovering the hidden world of small press comics, I took the plunge with my own comics creating various titles such as "Great!", "Little Box of Comics" and "Stupidmonsters".
In 2002 I jumped head-first into the deep end of children's publishing with the position of in-house illustrator at Eaglemoss Publications, where I worked for five years on amazing projects such as Horrible Histories, Horrible Science and The Magical World Of Roald Dahl.
Author Links
www.garynorthfield.com
@gnorthfield
Facebook
Wikipedia
Goodreads