A Fish Named Fancy by Ellwyn Autumn – Book Review
A Fish Named Fancy by Ellwyn Autumn – Book Review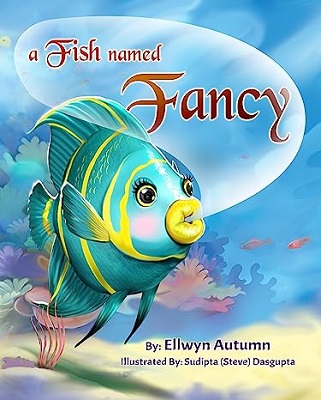 A Fish Named Fancy
Author – Ellwyn Autumn
Illustrator – Sudipta Dasgupta
Publisher – Angel Kiss Publications
Release Date – 16th July 2023
Pages – 37
ISBN 13 – 978-1735424941
Format – ebook, paperback
Star Rating – 4
I received a free copy of this book.
This post contains affiliate links.

Synopsis
Fancy isn't like the other fish in his school. He not only loves swimming and blowing round bubbles but he also adds flair to his bubbles.
The other fish won't let Fancy stay unless he agrees to create only round bubbles, despite admiring his skill. Though it makes him sad, Fancy decides to leave home and look for a place where he can express himself freely.
While on his journey, Fancy befriends two creatures who, like him, struggle to fit in: an oyster named Ruby and a squid named Glimmer.
The three friends journey across the sea and discover a place that they might call home.
In A Fish Named Fancy, we meet a fish who was just like all the other fish until he wanted to be different. All the fish made circles but Fancy liked lots of shapes and made those too which angered the other fish. They told him he had to make just circles or leave, so Fancy left his school and went off alone.
Whilst swimming he met an oyster called Ruby who couldn't do what the other oysters could do and so was pushed away by them. He also met a squid called Glimmer whose ink was different from his fellow squid's ink and so they made him leave. Together the three new friends went off to search for a place to call home where they could be and behave just as they wanted.
This young children's picture book is bright, colourful, and has a lovely poignant message running through it about being who you want to be and not holding back being your true self because that's what others want.
The story flowed naturally and the text contained no hard-to-decipher words and was the perfect length so as not to bored a child or leave them wanting more. If you want to teach your child that it is okay to be different and that they don't have to conform to society then A Fish Named Fancy is the book to help you do this.
Overall, a easy quick read that has a powerful message running through it and the illustrations are as beautiful as the words.
---
Purchase Online:
Ellwyn Autumn

Ellwyn Autumn is an American author/blogger/ghostwriter and a certified teacher with a Master's Degree in Education. She writes children's picture books, middle-grade novels, and Young Adult fiction.
Ellwyn's first self-published novel, Chris Kringle's Cops The First Mission, was a Finalist in the 2016 Reader's Favorite International Book Contest. Her Kamyla Chung picture book series addresses difficult issues facing young children. Kamyla Chung and the Classroom Bully is on Jedlie's Certified Great Reads List and earned Story Monster Approval.
Ellwyn discovered her passion for writing in second grade when she had to write a book report for school. She was so excited to write the report, until her mother told her that she had to write about someone else's book and not her own story. Ellwyn became indignant and decided that once she finished the book report she would most certainly write her own original story. She has been writing ever since!
Ellwyn lives with her family in Pennsylvania. She loves all things magical, curling up with a good book, writing stories, and almost anything with chocolate in it.
Author Links:
---
The above links are affiliate links. I receive a very small percentage from each item you purchase via these links, which is at no extra cost to you. If you are thinking about purchasing the book, please think about using one of the links. All money received goes back into the blog and helps to keep it running. Thank you.