Dread Wood by Jennifer Killick – Book Review
Dread Wood by Jennifer Killick – Book Review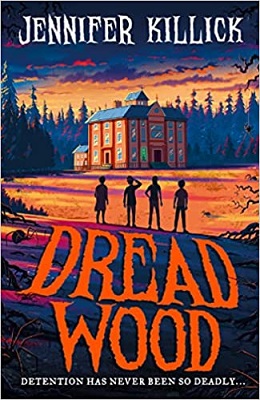 Dread Wood
Author – Jennifer Killick
Publisher – Farshore
Release Date – 31st March 2022
Pages – 336
ISBN 13 – 978-0755503711
Format – ebook, paperback, audio
Star Rating – 5
I received a free copy of this book.
This post contains affiliate links.

Synopsis
It's basically the worst school detention ever. When classmates (but not mate-mates) Hallie, Angelo, Gustav and Naira are forced to come to school on a SATURDAY, they think things can't get much worse. But they're wrong. Things are about to get seriously scary.
What has dragged their teacher underground? Why do the creepy caretakers keeping humming the tune to Itsy Bitsy Spider? And what horrors lurk in the shadows, getting stronger and meaner every minute . . .?
Cut off from help and in danger each time they touch the ground, the gang's only hope is to work together. But it's no coincidence that they're all there on detention. Someone has been watching and plotting and is out for revenge . . .
When four classmates are given detention on a Saturday morning, they thought their day couldn't get any worse. However, they don't expect to be faced with a life or death situation.
Middle-grade readers who love a bit of action, adventure, mystery, and a few scary moments grab a copy of this book. Dread Wood is an amazing story that features four very unlikely heroes, two extremely unlikely villains, and something hidden beneath the school field!!
The plot is superb, I loved the way the characters bounced off one another. Their working together, even though they didn't particularly like one another at the start, and their friendship that grows with each passing minute.
The writing is spot on, it had me hooked from the off and the pace felt fast all the way through. I can see middle-grade readers becoming hooked on Dread Wood and eagerly awaiting the sequel, just like me.
This is a must-read book. Although if you have a severe phobia of spiders you might want to give it a miss!
---
Purchase Online:
Jennifer Killick

Jennifer Killick is the author of the hilarious Alex Sparrow series, and middle-grade sci-fi adventure Mo, Lottie and the Junkers. She regularly visits schools and festivals, and her books have three times been selected for The Reading Agency's Summer Reading Challenge.
Jennifer's writing career really started when she applied for a Creative Writing MA at Brunel University, which is where she first got the idea for `Alex Sparrow and the Really Big Stink.' She lives in Uxbridge, in a house full of children, animals and Lego. When she isn't busy mothering or step-mothering (which isn't often) she loves to read, write and run, as fast as she can.
Author Links:
---
The above links are affiliate links. I receive a very small percentage from each item you purchase via these links, which is at no extra cost to you. If you are thinking about purchasing the book, please think about using one of the links. All money received goes back into the blog and helps to keep it running. Thank you.