Loki by Louie Stowell – Book Review
Loki by Louie Stowell – Book Review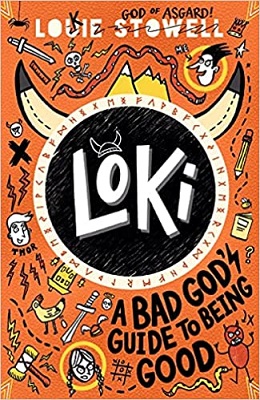 Loki
A Bad God's Guide to Being Good
Author – Louie Stowell
Publisher – Walker Books
Release Date – 3rd February 2022
Pages – 240
ISBN 13 – 978-1406399752
Format – ebook, paperback, audio
Star Rating – 5
I received a free copy of this book.
This post contains affiliate links.

Synopsis
Wry, witty and very funny diary-style story packed with doodles and comic strips about the frustration trickster god Loki feels at having to live trapped in the body of a weedy eleven-year-old boy.
After one trick too many, Loki is banished to live on Earth as a "normal" school boy. Forbidden from using his AWESOME godly powers, Loki must show moral improvement. As he records his lies THE TRUTH in his magical (judgemental) diary, it becomes clear Loki hasn't a clue how to tell good from evil, trust from tricks, or friends from enemies.
Loki has pushed Odin's buttons one too many times and has now been given his worse punishment ever. He has been sent to Earth to live as an eleven-year-old boy. He is living with two gods pretending to be his parents, and of course, Thor is there too, pretending to be his twin brother.
Loki is to behave. He is also to write in a magical diary every day. He is given a target to hit before he can return home or he will be given an even worse fate if he fails or declines to improve himself.
It was really quite amusing to see the all-powerful and naughty Loki trapped in the body of a child and having to do things children do, such as go to school. He hated his task and tried numerous ways to get out of it but he had no option but to go through with it, not if he wanted to return home and become his full adult self again.
The book is written in diary form with plenty of black and white hilarious illustrations on each page and an even funnier diary who answers Loki back at all times as Loki can not lie to the diary and as such the diary is rather sarcastic.
Loki: A Bad God's Guide to Being Good is a brilliant book. One middle-graders won't want to put down. It is fun, engaging, and I can hear the giggles now from the readers. It is that good.
---
Purchase Online:
Louie Stowell

Louie Stowell started her career writing carefully-researched books about space, ancient Egypt, politics and science but eventually lapsed into just making stuff up. She has written fiction for 8–12 (Nosy Crow and Walker Books US), but Loki: A Bad God's Guide to Being Good is her first project as both author and illustrator, inspired by her research into Norse myths. Louie writes full time in London, where she lives with her wife Karen, her dog Buffy and a creepy puppet that is probably cursed.
Author Links:
---
The above links are affiliate links. I receive a very small percentage from each item you purchase via these links, which is at no extra cost to you. If you are thinking about purchasing the book, please think about using one of the links. All money received goes back into the blog and helps to keep it running. Thank you.