The Queen: Panorama Pops by Liz Kay – Book Review
The Queen: Panorama Pops by Liz Kay – Book Review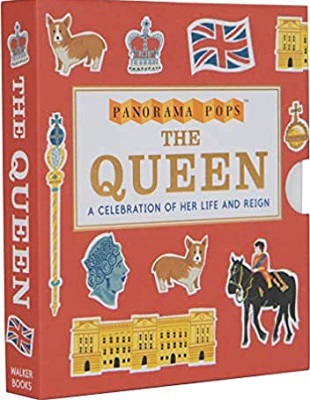 The Queen: Panorama Pops
Author – Liz Kay
Publisher – Walker Books
Release Date – 5th May 2022
Pages – 24
ISBN 13 – 978-1529507300
Format – Hardcover
Star Rating – 4.5
I received a free copy of this book.
This post contains affiliate links.

Synopsis
Ten stunningly illustrated pop-ups bring the magnificent reign of Her Majesty Queen Elizabeth II to life in this exquisite cut-paper souvenir. Find out more about Queen Elizabeth II's fascinating life, from her childhood to her wedding and ground-breaking coronation to both her family life and state duties.
The Queen: Panorama Pops is an unusual little book. Firstly, it comes in a little hardcover case, which you then remove the panoramic pop book from – this is not hardcover, but paper. Secondly, you can open it like a normal book turning each page, of which there are ten (double-sided), or you can open it fully so you can see all the pages at once and it has a concertina effect to it. You then turn it over and read the back of the pages.
The book follows the life of Queen Elizabeth II and is a celebration of her life and reign in her 70th year as Queen. It begins with a short intro about the Queen and then talks about her early life as a princess.
Throughout the book, children will learn about her service during WWII, her marriage to Prince Philip, her coronation, the commonwealth, line of succession, family life, Silver Jubilee, The Trooping of the Colours, Buckingham Palace, and The State Opening of Parliament.
The book is quite tiny in size but it packs a real punch with all the information inside. For royalists or those wanting something for their children to learn about Queen Elizabeth II before the Platinum Jubilee this would be perfect.
I enjoyed the read and learned a few things along the way too. It is also illustrated highly and I love the 'pop' effect on each page.
---
Purchase Online:
The above links are affiliate links. I receive a very small percentage from each item you purchase via these links, which is at no extra cost to you. If you are thinking about purchasing the book, please think about using one of the links. All money received goes back into the blog and helps to keep it running. Thank you.