NYPD Red 2 by James Patterson – Book Review
NYPD Red 2 by James Patterson – Book Review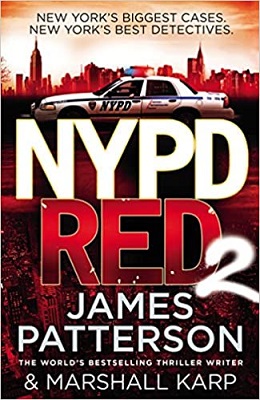 NYPD Red 2
Author – James Patterson & Marshall Karp
Publisher – Arrow
Release Date – 28th August 2014
Pages – 496
ISBN 13 – 978-0099574231
Format – ebook, paperback, hardcover, audio
Star Rating – 5
I received a free copy of this book.
This post contains affiliate links.

Synopsis
NYPD Red – the task force attacking the most extreme crimes in America's most extreme city – hunts a killer who is on an impossible mission.
A vigilante serial killer is on the loose in New York City, tracking down and murdering people whose crimes have not been punished. The number of victims grows, and many New Yorkers secretly applaud the idea of justice won at any price.
NYPD Red Detective Zach Jordan and his partner Kylie MacDonald are put on the case when a woman of vast wealth and even greater connections disappears. Zach and Kylie have to find what's really behind this murderer's rampage while political and personal secrets of the highest order hang in the balance. But Kylie has been acting strange recently – and Zach knows whatever she's hiding could threaten the biggest case of their careers.
Detectives Jordan and Macdonald from Red division, New York, are back in the second book of a current six-book series from authors James Patterson & Marshall Karp.
This time the detectives are on the hunt for vigilantes who are targeting people who seemingly have gotten away with murder. They are torturing them, videoing their confessions, and then leaving them to be found by the public wearing hazmat suits – hence they are known as the hazmat serial killers.
Four people have already been murdered when the Red team gets involved after the murder of a high profiled woman with a powerful and wealthy family.
But the team has their work cut out as they race to bring the killers to justice before the local mayoral elections as ordered by the current mayor.
It was exciting to be back with the NYPD Red team Jordan and MacDonald as they are put onto the serial killer case. Their suspicion soon leads them on a path they were unexpecting and we are fed a few red herrings along the way.
I love the camaraderie between the two lead detectives though their banter wasn't as full-on as in book one, especially as MacDonald's mind was somewhere else with a personal issue for most of the book.
I love the cross-over of plots, one from many years ago when the killers were just teenagers and the consequences their actions back then now have on their lives in the present.
If you love full-on thrillers that keep you guessing then this is a series to pick up. Now I'm onto book three.
---
Purchase Online:
James Patterson

James Patterson is one of the best-known and biggest-selling writers of all time. His books have sold in excess of 375 million copies worldwide. He is the author of some of the most popular series of the past two decades – the Alex Cross, Women's Murder Club, Detective Michael Bennett and Private novels – and he has written many other number one bestsellers including romance novels and stand-alone thrillers.
James is passionate about encouraging children to read. Inspired by his own son who was a reluctant reader, he also writes a range of books for young readers including the Middle School, I Funny, Treasure Hunters, Dog Diaries and Max Einstein series. James has donated millions in grants to independent bookshops and has been the most borrowed author of adult fiction in UK libraries for the past eleven years in a row. He lives in Florida with his wife and son.
Author Links:
---
The above links are affiliate links. I receive a very small percentage from each item you purchase via these links, which is at no extra cost to you. If you are thinking about purchasing the book, please think about using one of the links. All money received goes back into the blog and helps to keep it running. Thank you.