Where the Truth Lies by M J Lee – Book Review
Where the Truth Lies by MJ Lee – Book Review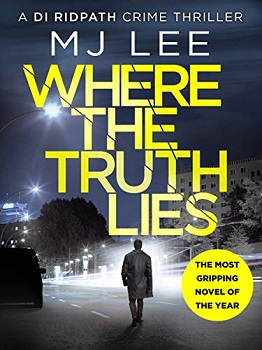 Where the Truth Lies
DI Ridpath Crime Thriller Book One
Author – MJ Lee
Publisher – Canelo
Pages – 352
Released – 22nd October 2018
Format – ebook
Reviewer – Stacey
Rating – 4.5 Stars
I received a free copy of this book
Post contains affiliate links.
A killer in total control. A detective on the edge. A mystery that HAS to be solved.
DI Thomas Ridpath was on the up in the Manchester CID: a promising young detective whose first case involved capturing a notorious serial killer. But ten years later he's recovering from a serious illness and on the brink of being forced out of the police. Then people start dying: tortured, murdered, in an uncanny echo of Ridpath's first case.
As the investigation intensifies, old bodies go missing, records can't be found and the murder count grows. Caught in a turf war between the police and the coroner's office, digging up skeletons some would rather forget, Ridpath is caught in a race against time: a race to save his career, his marriage… And lives.
When a detective goes missing everything is on the line. Can Ridpath close the case and save his colleague?

2008, Chorlton, Manchester. PC Tom Ridpath is chasing a white van. When the driver stops he attacks the officer with Ridpath and flees on foot. Giving chase, Ridpath follows the man to a garage which the man enters. Inside the garage, the body of a dying woman is discovered, and DNA of other missing women are found inside the van.
James Dalbey, the driver, is convicted of the murder of Alice Seagram and sentenced to 30 years in prison and given the nickname 'The Beast of Manchester'.
Present day, Manchester. Ridpath is now a Detective Inspector. It's his first day back on the job after being off sick for nine months after being diagnosed with cancer which has gone into remission. To be sure he is fit to be back at work he is tasked with working three months as the Coroners Officer.
His first job is to oversee the exhumation of Alice Seagram's body as the family has been to the courts regarding an error they believe with the postmortem. When the coffin is taken from the grave it turns out to be empty. Ridpath now has to follow old leads to find out what happened to the young woman's body. Plus, there are more deaths occurring which seem to have the same MO as Alice's but James is still behind bars, do they now have a copycat killer, or could it be that James was innocent as he has protested all these years?
Where the Truth Lies is the first book in a brand new detective series by MJ Lee. Having the story set in my home city of Manchester was both exhilarating – I knew everywhere that the police were and could visualise the areas fully. It was also a little bit annoying as there were little things that the author changed about the areas, which I presume were for effect and intrigue. I kept on thinking 'you're wrong', such as Northenden might not have a Starbucks but it has a Costa Coffee. Just daft little things, which I'm sure those who live in other areas that books are set probably say the same thing. Those who don't know the areas won't be bothered by this one bit.
DI Ridpath was an exceptional character. He might be a DI in a department that doesn't always stick to the rules, but he certainly does. He doesn't want the job as Coroner's Officer, he wants to be back working as an Inspector chasing bad guys. He soon realises that there is more to the job than he first thought. His wife isn't happy that he is back at work doing any kind of job, she worries about him going back so soon after his cancer diagnosis, even if he is in remission.
As well as hearing from the police and their lines of inquiry we also get to hear from the murderer of the women that are being found in the present day and the torturing of them. Nothing was too graphic, so those that are squeamish need not worry. By about 60% the way in I'd realised who the killer was, I just needed to know why. The reason was strange but I suppose not unheard of. I also still needed to know whether James was the killer of Alice and if this was a copycat killer and where Alice's body was.
The plot was fast paced and there was plenty going on all the time. The chapters were short, which I really like in a book. The characters were authentic and the storyline flowed naturally and was credible. I found myself wanting to pick Where the Truth Lies up at every opportunity I could. I even sat in the car whilst my hubby went to collect our takeaway one night so I could continue reading. I like how the author has made hints for the return of one of the secondary characters at the end too. I now can't wait to read book two in the series.
Reviewed by Stacey
---
Purchase online from:
---
About the Author

M J Lee has spent most of his adult life writing in one form or another. As a university researcher in history, he wrote pages of notes on reams of obscure topics. As a social worker with Vietnamese refugees, he wrote memoranda. And, as the creative director of an advertising agency, he has written print and press ads, TV commercials, short films and innumerable backs of cornflake packets and hotel websites.
He has spent 25 years of his life working outside the north of England, in London, Hong Kong, Taipei, Singapore, Bangkok and Shanghai, winning advertising awards from Cannes, One Show, D&AD, New York and the United Nations.
While working in Shanghai, he loved walking through the old quarters of that amazing city, developing the idea behind a series of crime novels featuring Inspector Pyotr Danilov, set in the 1920s.
When he's not writing, he splits his time between the UK and Asia, taking pleasure in playing with his daughter, practising downhill ironing, single-handedly solving the problem of the French wine lake, and wishing he were George Clooney.




---