Augury by S. E. Lister – Book Review
Augury by S. E. Lister – Book Review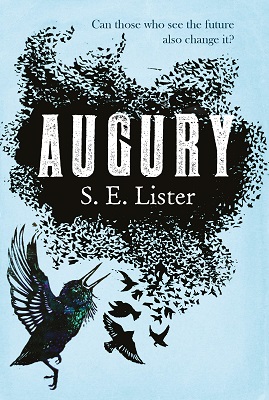 Augury
Author – S. E. Lister
Publisher – Old Street Publishing
Pages – 320
Released – 1st May 2020
ISBN-13 – 978-1910400944
Format – ebook, paperback
Review by – Tina
Rating – 5 Stars
I received a free copy of this book.
This post contains affiliate links.


The people of an ancient city awaken one night to find the earth beneath them trembling. At the Emperor's Palace, though, the feasting goes on. Even as the omens multiply, the High Priest insists that the gods' favour can be bought as it always has been — with gold and ritual sacrifice.
Only the Augur — fearless, ageless, a prophetess who was once the power behind the throne — can see what is coming. Around her, an unlikely resistance gathers: Saba and Aemilia, her two young acolytes, stolen from distant homelands long ago; Myloxenes, the truth-seeking son of the High Priest, in flight from his savage father; and Antonus, pain-wracked and exiled, raising his family far from the depravity of the Palace he once called home.

This book blew me away. It takes a little bit to get a feel for the setting and prose, but once you have acclimatised it's hard to put down. It follows the reactions of several characters in the weeks following a prophet's declaration that their city is doomed. It features two rival religious factions and political corruption, but what's hard to describe is the complexity and detail of the story that make it so compelling.
I'm not sure whether it's based on an actual Ancient Greek/Roman city (I have a theory, but it would be a spoiler) or a fictionalised version of the era, but the setting is classically based. Research has been done into the mundane aspects of life in that era as well as archaic societal views towards sexuality and women. As frustrating as this old mindset can be, the complicity of some female characters to these views feels authentic. There are also a few women who push back against the system in subtle ways, but it does not feel anachronistic.
Likewise, the male characters are either likeable or repugnant. The latter's motivations are clear, which contributes greatly to the tension. This is a story about power and corruption, about fear and control. It's fascinating from a distance as much as it still has relevance today.
At first, the lack of a main protagonist gave the novel a disjointed feel, but you realise quickly that different viewpoints provide a broad and complex impression of the society.
Where the novel really shines is the slow build-up of tension – it's fabulously foreboding in tone. In a mimetic fashion to how the characters feel, we the reader sense that something bad is going to happen, but when and what is unclear.
Another interesting aspect about this novel is that we're never sure if the "gods" are real or not. This was a great surprise, as I expected magical realism or fantasy. Instead, we again experience the same uncertainty the characters do, but this time about the existence of a furious deity demanding retribution.
The last quarter of the novel is fantastic. It builds to a frenzy of action that left me breathless. The Epilogue is perfect – it is satisfying but does not go too far with exposition. All I can say is this book is fantastic.
Book Reviewer – Tina
---
Purchase online from:
---
About the Author

S. E. Lister has been reading stories since she was old enough to pick up a book, and writing them almost as long.
She is the author of Hideous Creatures (2014), The Immortals (2015), and Augury (2020), published by Old Street. Her work is literary fiction with a magical twist.
She loves growing things, like books and vegetable gardens.
She lives and works in Southampton.



---
What did you think of Augury? Share your thoughts in the comment section below!
---
The above links are affiliate links. I receive a very small percentage from each item you purchase via these link, which is at no extra cost to you. If you are thinking about purchasing the book, please think about using one of the links. All money received goes back into the blog and helps to keep it running. Thank you.
Like us on Facebook – Tweet us on Twitter – Pin us on Pinterest