Montmartre Stairs by Douglas Warren – Book Review
Montmartre Stairs by Douglas Warren – Book Review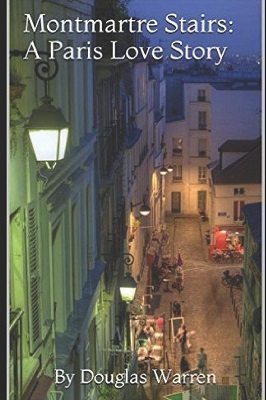 Montmartre Stairs: A Paris Love story
Author – Douglas Warren
Publisher – Createspace
Pages – 265
Released – 4th March 2016
ISBN-13 – 978-1530363131
Format – ebook, paperback, audio
Review by – Linda
Rating – 4 Stars
I received a free copy of this book.
This post contains affiliate links.


This enchanting and inspiring love story begins in the romantic Montmartre neighborhood of Paris. As Michelle, a young and spirited Parisian woman, struggles with her crutches down the treacherous Abbesses stairs she loses her balance and begins to fall just as John passes by. Thanks to his quick actions she is saved from a potentially fatal fall down the long and winding stairway. Looking into her beautiful and hypnotic eyes, asking if she is all right, he immediately falls in love. The feeling is mutual and an epic romance begins.
Despite their passion, all does not go smoothly for the lovers. John, an American, must return to his job in London. Michelle has a promising career in Paris theatre. Desperate to remain in Paris, John asks for a transfer. He is faced with the dilemma of either staying in Paris with Michelle and losing his job or returning to the security of London and his English girlfriend.
More trouble erupts when John's parents in Connecticut find out about 'that French woman' after John breaks up with his girlfriend in London. Determined to end John's relationship with Michelle, his parents threaten to destroy his career and disown him. Fighting against these obstacles John's life becomes transformed. The camaraderie of Michelle's quirky theatre friends opens up a new and exciting world to John, a way of life he unknowingly craved.

Montmartre Stairs is set in the romantic city of Paris, which is always a perfect setting for a love story. The plot takes us straight into a boy meets girl situation, sadly with a fall down the metro stairs!
I'm am an old romantic at heart and adore the idea of love at first sight so for me, the book starts particularly well.
The main characters are John Cabot Bennington III, who grew up in America and is from a typical Yankee family with a history in Banking. His father is on the board of the bank John works for. John's character comes across as hardworking, reliable, and realistic. As the story played out we also see that John has endurance and determination to do what he wants not what is expected of him.
Michelle is described as beautiful with amazing eyes and she too is hardworking and doesn't let her disability define her, her character too comes across as very real. Her parents are very accepting and easy-going unlike John's.
The story is a gentle slow read, not a fast page-turner. The ending was as I predicted it would be, however, I still enjoy it. It is just the book I needed in these times of lockdown!
I Definitely recommend Montmartre stairs: A Paris Love story. Well done Douglas Warren for a truly lovely story of where there's love there's a way.
Book Reviewer – Linda
---
Purchase online from:
---
About the Author
The author is a former New Yorker from Hell's Kitchen near Times Square. He now lives in Europe, spending most of his time in Paris. During a three month stay on Cape Clear Island in Ireland he began writing his first novel, "Montmartre Stairs: A Paris Love Story." It was in Morocco where he started his second novel, "Nefarious by Nature" an erotic thriller set in Kent, England. His third book is a collection of short stories, "The Pink Poodle and Other Stories." Next came "Kate" a novella about an Irish-American woman who struggles between her love for an Englishman and loyalty to her Irish heritage. His third novel "Different Worlds" tells the story of identical twins separated at birth. They both fall into addictions and struggle to get clean and sober.

---
What did you think of Montmartre Stairs? Share your thoughts in the comment section below!
---
The above links are affiliate links. I receive a very small percentage from each item you purchase via these link, which is at no extra cost to you. If you are thinking about purchasing the book, please think about using one of the links. All money received goes back into the blog and helps to keep it running. Thank you.
Like us on Facebook – Tweet us on Twitter – Pin us on Pinterest