The Adventures of Mrs Browning by Marcia Carrington – Book Review
The Adventures of Mrs Browning by Marcia Carrington – Book Review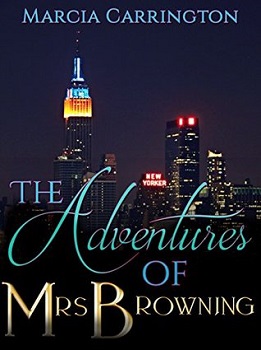 The Adventures of Mrs Browning
Author – Marcia Carrington
Pages – 16
Release Date – 12th June 2012
Format – ebook
Reviewer – Julie
I received a free copy of this book
Post Contains Affiliate Links

This is just one tale of a city…Mrs Browning is a widow who lives a peaceful life in New York City, but she harbours a secret which comes into play every Friday night…of every week…of every year! Best of all, though, is the fact that she wants only YOU to know her secret!

The Adventures of Mrs Browning is a short story from the pen of Marcia Carrington, about a widow living in New York City. It is written in the third person and in the present tense. At sixteen pages, it can easily be read in an hour or so.
The character of Mrs Browning is enigmatic and engaging. She has the benefit of a peripheral supporting cast who embellish her adventures but the focus remains on the protagonist herself.
Carrington has skilfully created a vivid backdrop of a mundane existence which contrasts dramatically with an alternative persona adopted by the colourless widow once a week.
The structure is straightforward with no discernible plot as the tale is basically a narrative of Mrs Browning's life. The author challenges her readers to make of it what they will, which could be considered either rather intriguing or alternatively, a bit of a cop out.
If you enjoy a tantalising short story, then you will appreciate this book. I award 'The Adventures of Mrs Browning' a well-deserved four stars.
Book Reviewed by Julie
Purchase Links


Marcia Carrington writes about the human condition, exploring what makes people tick, but in an upbeat and optimistic tone. She is an interested observer of popular culture, and fan of cinema from all eras and countries, especially from the 1930-1970s. Marcia is a long-time soap opera viewer, watching daytime, and night time serials from a very young age.
Marcia is also a food connoisseur, with a particular love of chocolate, and coffee. The morning coffee has always been a staple for Marcia, and something which she cannot do without. There is just something about the fresh aroma of coffee early in the morning, and anytime for that fact, which proves irresistible to her.
Author Links
www.marciasbooktalk.wordpress.com
@MarCarring
Pinterest
Goodreads