What's a Man to Do? by Marcia Carrington – Book Review
What's a Man to Do? by Marcia Carrington – Book Review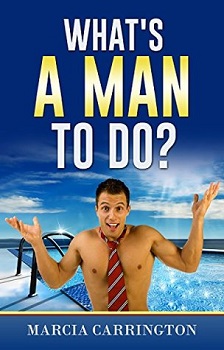 What's a Man to Do?
Author – Marcia Carrington
Pages – 91
Release Date – 4th December 2013
Format – ebook
Reviewer – Julie
I received a free copy of this book
Post Contains Affiliate Links

How much trouble can a handsome man cause without even trying? In this case, lots…Mike Anderson gives the term dressing down a whole new meaning, but for totally unintended reasons on his part.
Mike has just lost his job as a broker after fifteen years, and attempts a complete career change, with farcical results. Will his new job, though, create waves in his relationship with best friend Janie, who may or may not be in love with the ambitious but restless Mike?

'What's a Man to Do?' by Marcia Carrington and is a satirical work, written in the third person and set in the USA. The writing style is crisp and the humour abundant.
The cover design looks like a photograph which never captures my imagination as much as an illustration but to many potential readers, it will be eye-catching.
The main character, Mike, loses his job and finds it difficult to get another in the same field, so turns to an alternative means of employment. The consequences of which lead him into a variety of diverse and awkward situations, which the author explores with the use of some colourfully descriptive prose.
Structurally, I had a little difficulty with the concept of sharing more than one character's thoughts in the same section. Example:
'Well, yes and no,' Mike said softly, thinking of Mrs Albers falling in front of his eyes.
Toni realised that Mike was hung up about this but wanted to bring some life back to the conversation.
Satire is often implausible and this is no exception, however it is a light-hearted easy-to-read story. There is no great depth to the characters and apart from the theme of sexist role reversal, has no particular message but it's a delightfully uncomplicated fun book with a happy ending.
I award 'What's a Man to Do?' a commendable four stars.
Book Reviewed by Julie


Marcia Carrington writes about the human condition, exploring what makes people tick, but in an upbeat and optimistic tone. She is an interested observer of popular culture, and fan of cinema from all eras and countries, especially from the 1930-1970s. Marcia is a long-time soap opera viewer, watching daytime, and night time serials from a very young age.
Marcia is also a food connoisseur, with a particular love of chocolate, and coffee. The morning coffee has always been a staple for Marcia, and something which she cannot do without. There is just something about the fresh aroma of coffee early in the morning, and anytime for that fact, which proves irresistible to her.
Author Links
www.marciasbooktalk.wordpress.com
@MarCarring
Pinterest
Goodreads