The Truth About Love And Dogs by Lilly Bartlett – Book Review
The Truth About Love And Dogs by Lilly Bartlett – Book Review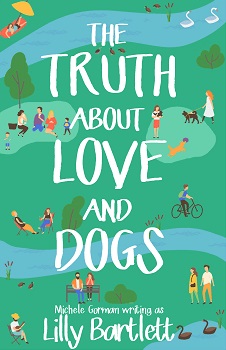 The Truth About Love And Dogs


(Originally called – Love is a Four-Legged Word)
Author – Lilly Bartlett
Publisher – Notting Hill Press
Pages – 332
Release Date – 13th October 2016
ISBN 13 – 978-1796490268
Format – ebook, paperback
Reviewer – Stacey
I received a free copy of this book
Post Contains Affiliate Links

Rewind six months and Scarlett and Rufus aren't in the honeymoon stage anymore so much as the honey-should-we-bother phase. Desperate to get their sparkle back, Scarlett has plotted, planned and waxed more than any woman should have to, but none of it is working. Which makes it very hard to start the family they want.
At least her business is going strong, even if her marriage isn't. She and her best friend spend their days tangled up in dog leads and covered in fur. Scarlett is the fairy dogmother, training hopeless pets like compulsive eater Barkley, impulsive Romeo Murphy and bossy Biscuit. Meanwhile, her best friend walks the dogs and pines for the man who doesn't know she exists. Thank goodness the women have each other.
If only Scarlett could work out how to get her marriage back on track. But Rufus isn't sharing his feelings with her. He is, though, sharing with her best friend. Her best friend, Shannon.

I've been a fan of Michele Gorman's/Lilly Bartlett books for a while now, so when I was asked if I would like to read her latest novel 'Love is a Four-Legged Word', it was an easy answer give – of course I wanted to read it!
The story revolves around unconventional animal behaviourist Scarlett, her husband Rufus, and friend and colleague, wacky, yet on-the-ball, Shannon. Shannon also happens to be Rufus's best friend.
I kind of guessed from the relationship between the three of them, that there was going to be some conflict of interest going on in the book, but it doesn't turn out how I had imagined.
Scarlett and Shannon run a dog business together, 'Ruff Love'. The laughs came thick and fast courtesy of their clientele, and not just from the four-legged ones either. Some of the dogs' owners were barking mad too.
The book is filled with strong characters that are surrounded by an engaging plot-line. There are a few very emotional scenes in the book, from friendships to families, and infertility too. All of which Ms. Gorman perfectly executes.
If you are looking for a romantic, heart-warming story, yet one that will have you laughing out loud and enjoying the fun, then The Truth About Love And Dogs is the one to choose.
Book Reviewed by Stacey
Purchase Links


Michele writes books with heart and humour, full of best friends, girl power and, of course, love and romance. Call them beach books or summer reads, chick lit or romcom… readers and reviewers call them "feel good", "relatable" and "thought-provoking".
She is both a Sunday Times and a USA Today bestselling author, raised in the US and living in London. She is very fond of naps, ice cream and Richard Curtis films but objects to spiders and the word "portion".
I spend way too much time on Twitter and Facebook when I should be writing, so please come say hello.